Navigating the many wonders of The Buffet at Wynn Las Vegas requires the guidance of a professional, so we look to none other than Jason Duarte, executive chef, to map out the ultimate all-you-can-eat journey. He shares five bites that are not your typical buffet fare at this seven-day-a-week experience, which draws themes from dishes around the globe.
The Vibe
After a recent remodel, The Buffet features a vibrant new entrance with eight live royal palms imported from south Florida.
Special Access and Add-ons
The Buffet at Wynn Las Vegas is popular so if you want to get into the action right away, make sure and opt for the priority seating package so you can skip the line. Also, if you are in the mood for a truly decadent experience, add on the table-side lobster, which is available a la carte or as the Live Large package, which includes a line pass, a round of Perrier Jouet Champagne and a lobster.
Table-side Lobster
The Lobster is served table-side on a tiered tray and comes with potatoes and ginger-glazed carrots. During the summer months, it gets accessorized with sausage and corn on the cob, giving a nod to New England lobster bakes.
"We have 16 live-action stations, so there are plenty of items to choose from but when you come to a buffet you don't expect to have a two-and-a-quarter pound lobster being offered," Duarte says. "In addition, we have plenty of seafood options including crab legs, Jonah crab claws, clams and mussels, and on the weekends we offer oysters on the half shell. However, that lobster is so alluring because as it is being served everyone looks at it and says, "What is that?"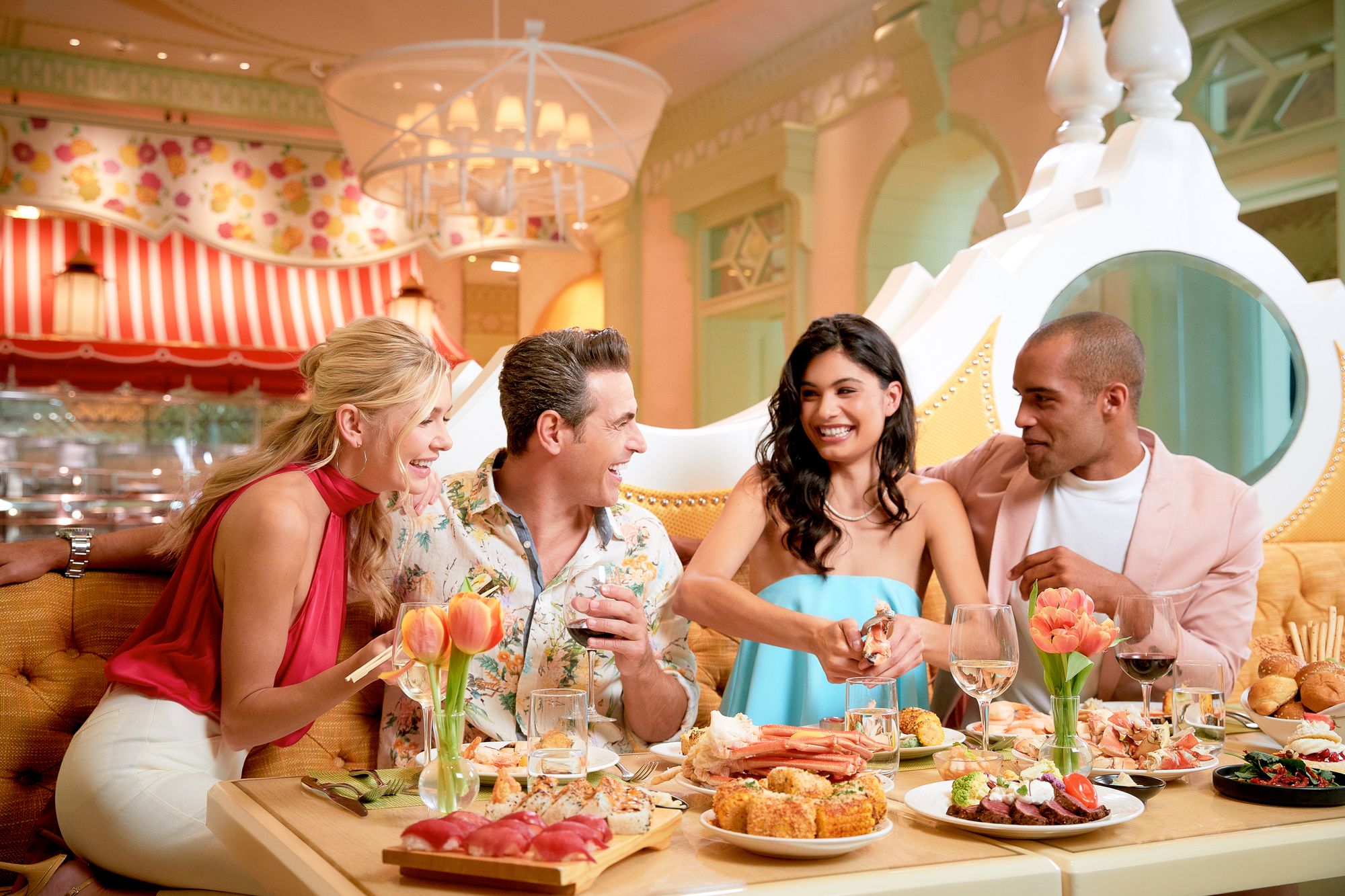 Manuck "Filipino" Chicken
Highly unique to The Buffet at Wynn is the Manuck "Filipino" Chicken dish that is grilled chicken thighs with grilled pineapple, served at the carving station.
"We are highlighting global cuisine," Duarte says. "We have offerings beyond the typical Italian, Mexican or Chinese foods. We're branching out into all facets of Asian cuisine and Italian cuisine, which also includes Sicily."
Furikake Tuna
As Duarte changes the buffet items out around every three months based on the availability of products, currently on the menu is a Furikake Tuna, a tropical dish with coconut rice and lilikoi sauce with a pineapple salsa on top—light and refreshing for a hot summer day.
American Barbecue
The Buffet at Wynn features barbecue from across the country—Texas, the Carolinas, Tennessee and Kansas City. Think incredible sauces, great cuts of meat such as brisket and tri-tip as well as beef ribs and pork ribs.
"At the moment, we're offering a 75-pound steamship that is on the carving station. It's a massive piece of a cow. It looks incredible and it tastes delicious. It has a chimichurri," Duarte says. "Everyone loves good barbecue."
Crepes and More
At the crepe station, every sweet bite is made to order with a variety of fillings.
"The one that people are really surprised by is a cannoli-inspired crepe. We have cannoli filling and then we crack the cannoli shell inside and top it with whipped cream, chocolate, caramel, anything you want," he says.
Also, find a mandarin orange custard and a vegan cherry panna cotta.
"We have a lot of gluten free items and vegan items to choose from and our vegan panna cotta and has an edible flower on top," Duarte says.