Picture this: The sun is shining, palm trees gently swaying overhead in the breeze. You've got a refreshing beverage in hand, a view of sparkling waters and the whole day before you. There's nothing quite like a dreamy, relaxing day at the pool. Add a luxurious cabana to the mix and your pool day just became next level. Whether you're checked in as a hotel guest or visiting our Five-Star resort for the day, here's your guide to selecting and securing just the right Wynn or Encore cabana for your day in the sun.
Pick Your Pool
The pool decks at Wynn Las Vegas include; Wynn and Encore resort pools open to all ages, Wynn Tower Suites pool exclusively for Wynn and Encore Tower Suite guests, Encore Beach Club with top-name DJs fueling the day party and two European pools (21+, topless optional). There are cabana selections available at all pools as well as other amenities like premium chairs with umbrellas, lily pads and daybeds.
Cabana Cliff Notes
There are three types of cabanas at Wynn and Encore: standard, premium and bungalow. "All of the cabanas at Wynn offer the same suite of amenities," says Curtis Borja, director food and beverage and pool operations, "including complimentary non-alcoholic beverages, a fresh fruit platter, 6g WiFi, living area and a flat screen television. And new this year," adds Borja, "guests can direct stream to their cabanas the same sports packages that we have on property—like what we're showing at our sportsbook for example—including live events in soccer, baseball, football and hockey."
So if all the amenities are the same, what distinguishes the premium cabana from the standard cabana? "That," says Borja, "is all about location." We have second story cabanas with sweeping views; first-level cabanas with direct walk-out to the pool. Other cabanas are more secluded and some are right in the middle of all the action. It really comes down to a matter of guest preference," says Borja. "We also have a bungalow-style cabana for ultimate privacy." This exclusive pool-side bungalow has a separate gated entrance and a private jacuzzi.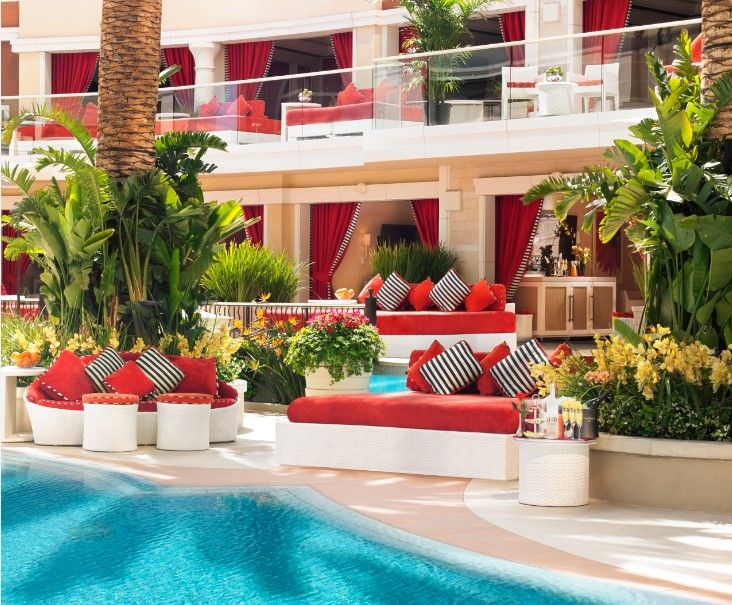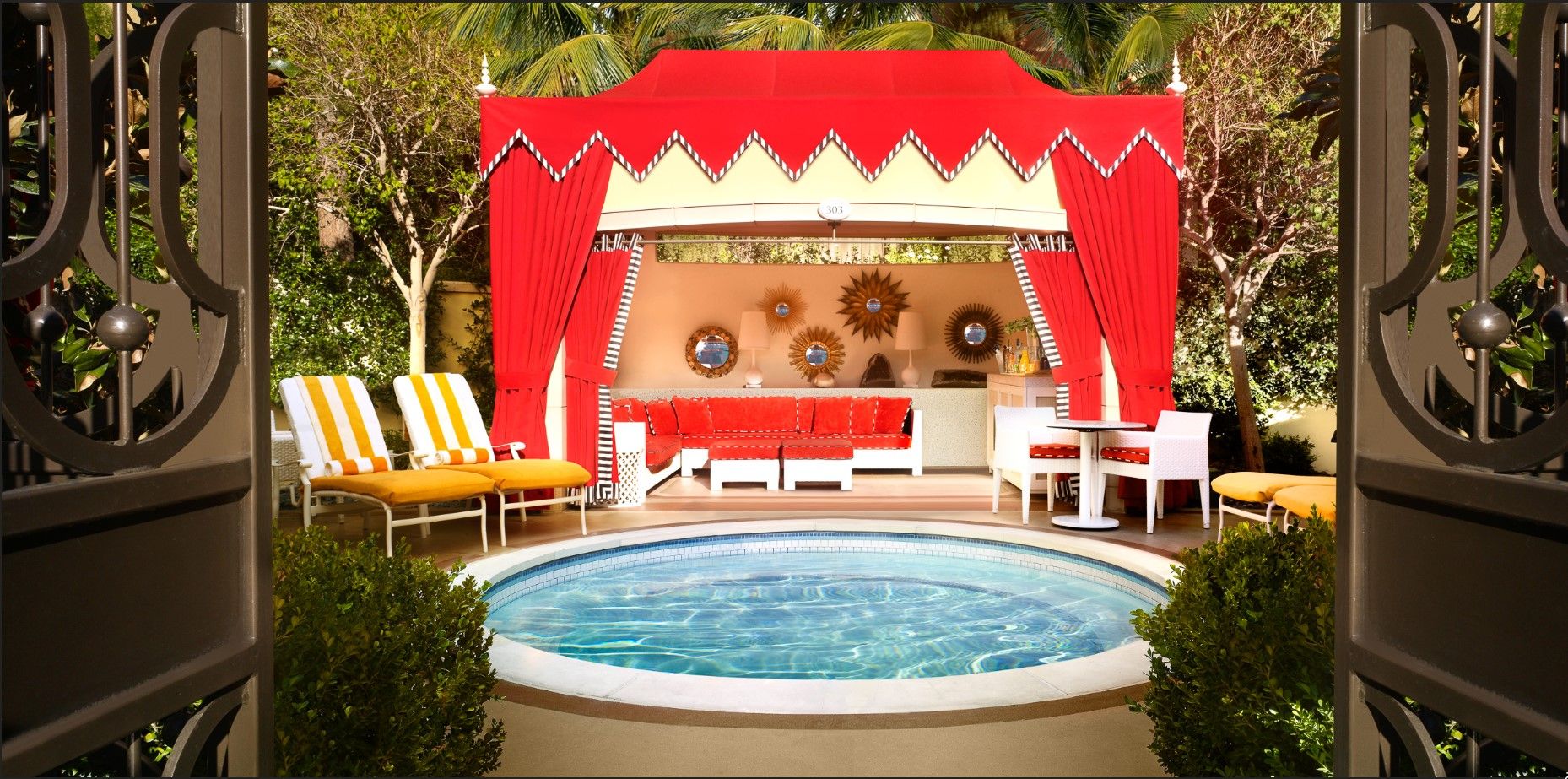 Friends and Refreshments
Nothing quite says pool party like a cabana and each can accommodate six to eight of your favorite pool pals. The cabanas have dedicated servers who will assist you and your party throughout the day.  While there is no minimum food and beverage spend as a cabana guest, there are definitely some must-try cocktail and menu items. "The cabana menus feature items from two of our guest-favorite restaurants, Jardin and Terrace Pointe Café," says Borja. Dig into the crispy buttermilk chicken sandwich from Jardin with hickory smoked bacon, pepper Jack cheese, jalapeño dill pickles and buttermilk ranch slaw on a challah bun. Be sure to order a round of Wynn's signature poolside cocktails like the Tropic Like It's Hot or the Aquamarine, made with Tequila, ginger, lime, grapefruit and a colorful splash of butterfly pea blossom.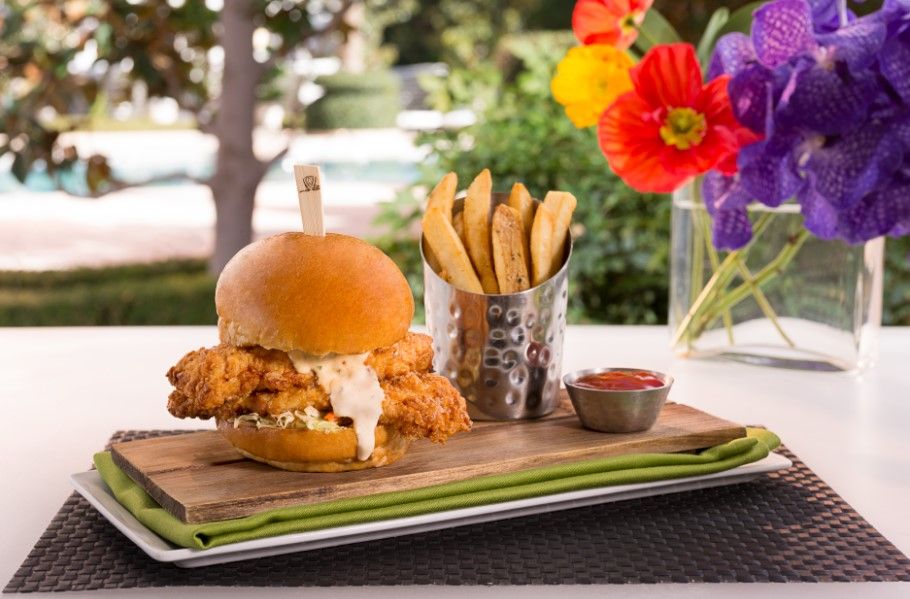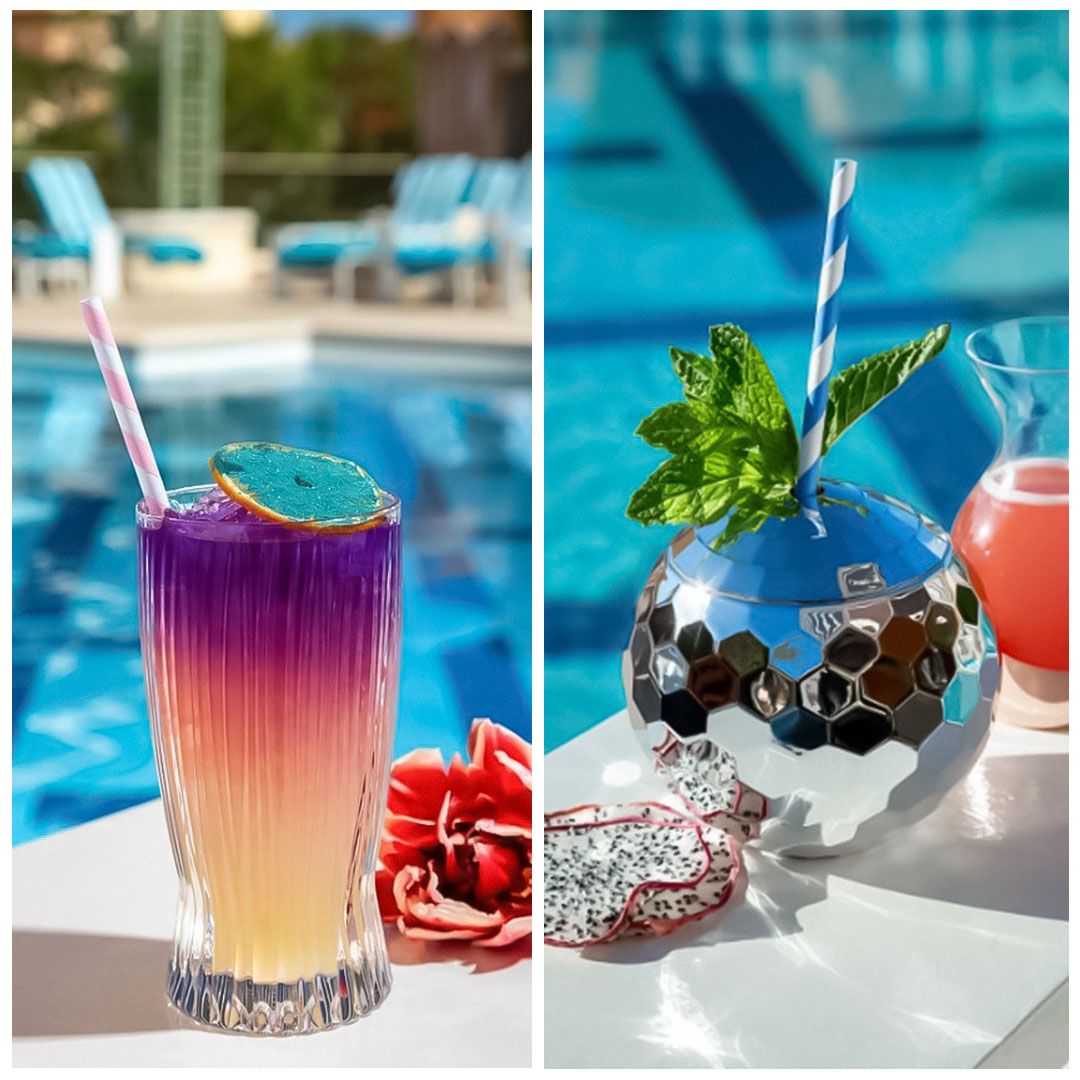 Locking it Down
Now that you're completely cabana-savvy, it's time to pick your dates and reserve your own little piece of poolside paradise. "Guests can go to the website to book online with 24-hour access," says Borja. "A cabana team member will follow up with the guest to discuss specifics and answer any questions they may have." Guests may reserve lily pads and daybeds online as well.
Cabanas are one of the most popular pool amenities at Wynn and Encore, especially on weekends and holidays, so it's advisable to reserve as much in advance as possible. However, the cabana team will do their best to accommodate all requests. Cabana inventory is typically more abundant Monday–Thursday, so if you want to start the party early or break up the week, you may have more cabana locations to choose from.
The good news is, Las Vegas has an extended pool season well beyond the summer months; in fact, cabanas are available for reservation year-round. So think outside the box. Who says you can't have a pumpkin-spiced, fall cabana party?