Want to sit on the field level just behind the north end zone goal post with your best friends, poppin' bottles of Champagne, eating shellfish towers and watching touchdowns or a major touring act? There's only one place where a dream scene like that can actually be a reality and it's at Wynn Field Club, inside Allegiant Stadium, the home of the Las Vegas Raiders.

Wynn Resorts, as the official nightlife partner of the Raiders and Allegiant Stadium, as well as an official gaming partner of the Raiders, has created a premium club to offer ticketed guests a field-level party that is uniquely Las Vegas.

In addition to all its superlatives—newest, most luxurious, state-of-the-art, most technologically advanced, one-of-a-kind—Wynn Field Club gives spectators the once-in-a-lifetime chance to watch a professional football game, special event or concert from the best location possible, adjacent to the end zone. And in true Las Vegas style, you'll find a nightclub built into the experience, created by the team who have set the industry standard for daylife and nightlife at Wynn Resorts' XS and Encore Beach Club.

Make An Entrance Like Never Before


At Wynn Field Club, the moments you will never forget begin when you first open the doors and feel overcome by a wave of excitement. Designer Manica Architecture builds anticipation into the arrival of Wynn Field Club by creating an undulating and sweeping journey from the exterior entry of the stadium to the ultimate destination, a descent of 20 feet deep into the building toward the event level.

Every turn and every detail is bold and sexy, with high-contrast materials that draw on Allegiant Stadium's overall interior design palette and futuristic exterior expression. Graceful geometry and disappearing vantage points complement the architectural style of the large-scale sports and entertainment complex and the Raiders brand.

Along this trip, which naturally draws you through the space, encounter different atmospheres that drive curiosity, and inspire surprise and delight. When you have arrived and the view of the entire north end zone comes into focus, there is no mistaking where you are—on the field of Allegiant Stadium. But much more than just visually stunning, Wynn Field Club provides an extraordinary guest experience.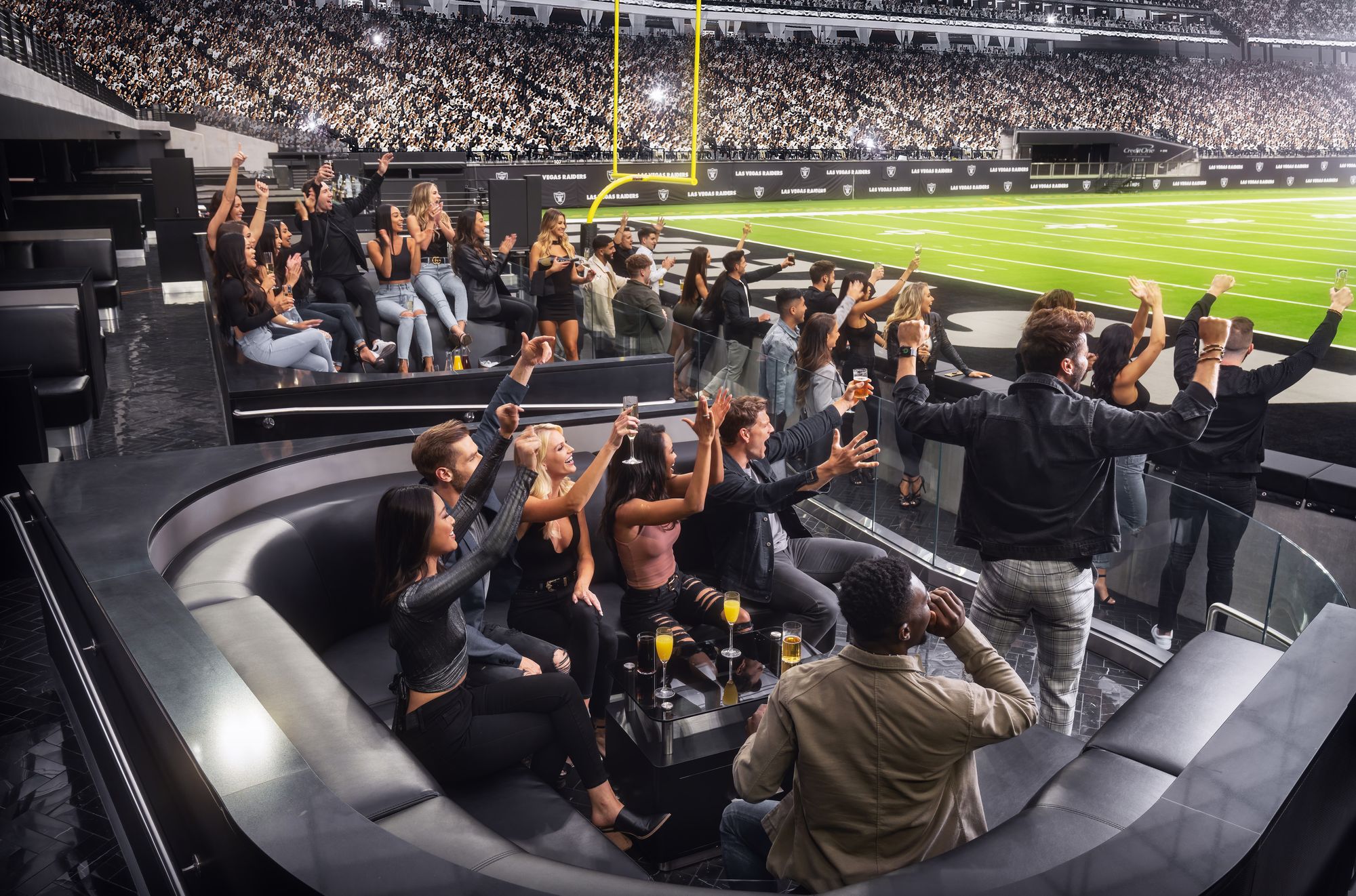 See the Action Like Never Before


With almost 11,000 square feet of possibilities, Wynn Field Club reinvents the VIP stadium experience. Through the frameless doors and underneath dazzling chandeliers, premium seating unfolds over 29 custom built-in banquettes and 18 cocktail tables. To take in every view possible, there are 42 televisions throughout Wynn Field Club, in addition to a 9-feet by 35-feet LED.

Nothing goes better with touchdowns than a Pirate Ship sushi boat, a 40-ounce bone-in Tomahawk, Charlie's Bar & Grill giant pretzel—straight from the Wynn sportsbook café—or Encore Beach Club's famous chicken tenders. Then get ready for a bottle service parade, confetti and undoubtedly your name on that big screen LED.

See A Nightclub Like Never Before


With the flip of a switch, Wynn Field Club converts into nightclub mode for performances by Wynn's roster of top talent—pre-game or concert, halftime and post-game or concert. The club offers two DJs booths and the headliner can perform for 65,000 fans—or directly within the club space.

Creating a dynamic, high-energy space with lighting and sound, Wynn Field Club features more than 100 fixtures and lasers—in traditional Raiders colors—moving light throughout the venue, accompanied by clean and precise architectural lighting.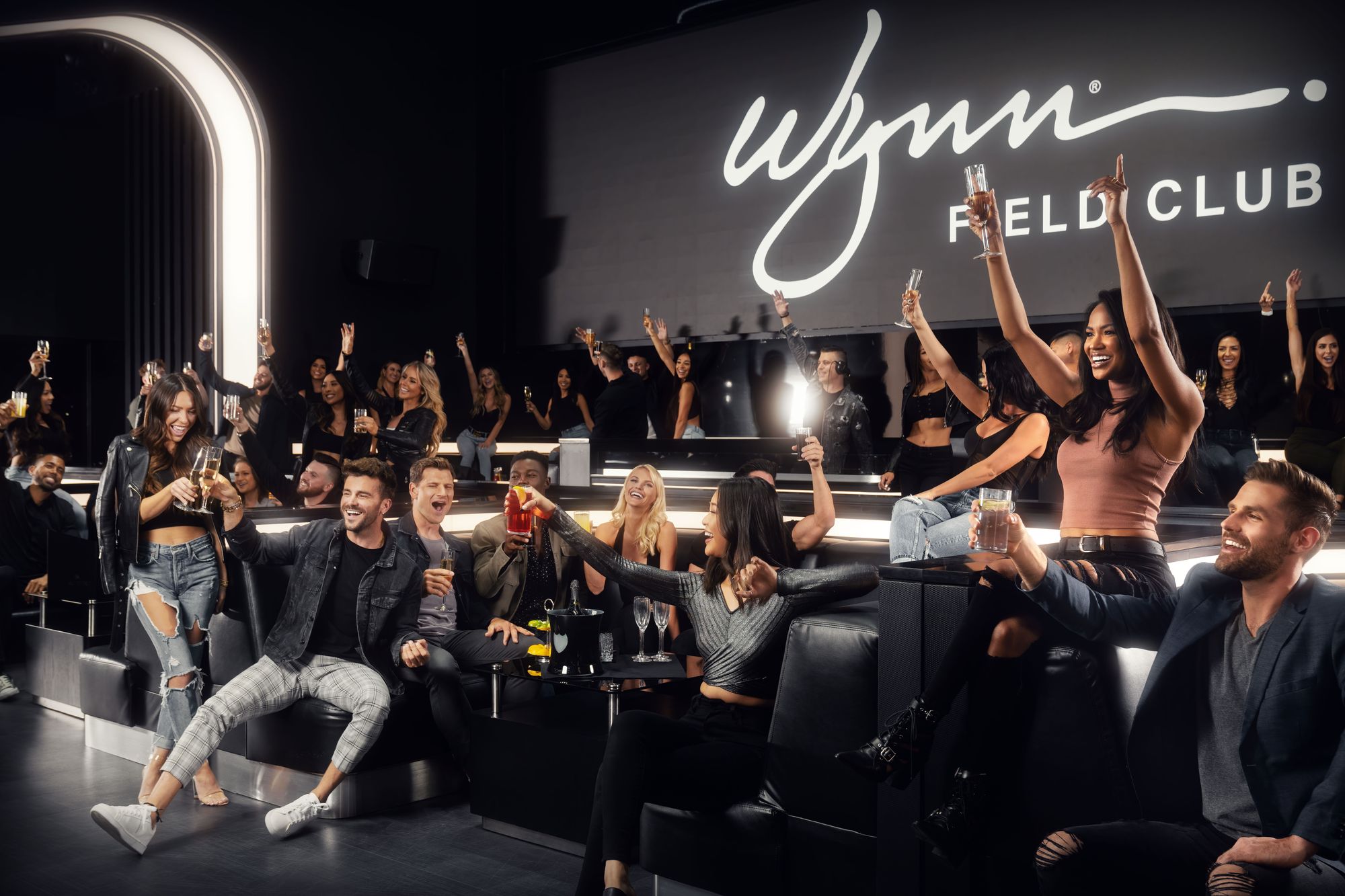 Pulsing through the venue are 45,000 watts of total output consisting of acoustic speakers, amplifiers and processors, in addition to specialized 'silent' subwoofers for the on-field booths.
Wynn Field Club encapsulates all the things that make Wynn nightclub's XS and Encore Beach Club successful and meet the high-expectations of a discerning clientele. The audio-visual package stuns, and the premium bottle service and over-the-top field access with adjacency to the intensity and excitement of a Raiders game, concert or other event can only be found in Las Vegas.
---