We are now officially halfway through the year and at the start of the summer season on the Las Vegas Strip. This time brings with it some of the year's best entertainment offerings and as the saying goes when the temperatures heat up outside, there are myriad ways to cool off inside.
Encore Theater's June schedule features a lineup of Wynn first timers and a few familiar faces—all musical and comedy powerhouses nonetheless. Voted one of the best theaters in America, Encore Theater attracts top talent with its intimate setting, superior sound and visuals. For the audience, every seat gives an unrivaled experience up-close and personal with your favorite performers.
​​Among those you won't want to miss: Boy George and Culture Club, Kenny Loggins, Russell Peters and the comedic duo of Martin and Short.
Here's the lineup for Encore Theater in June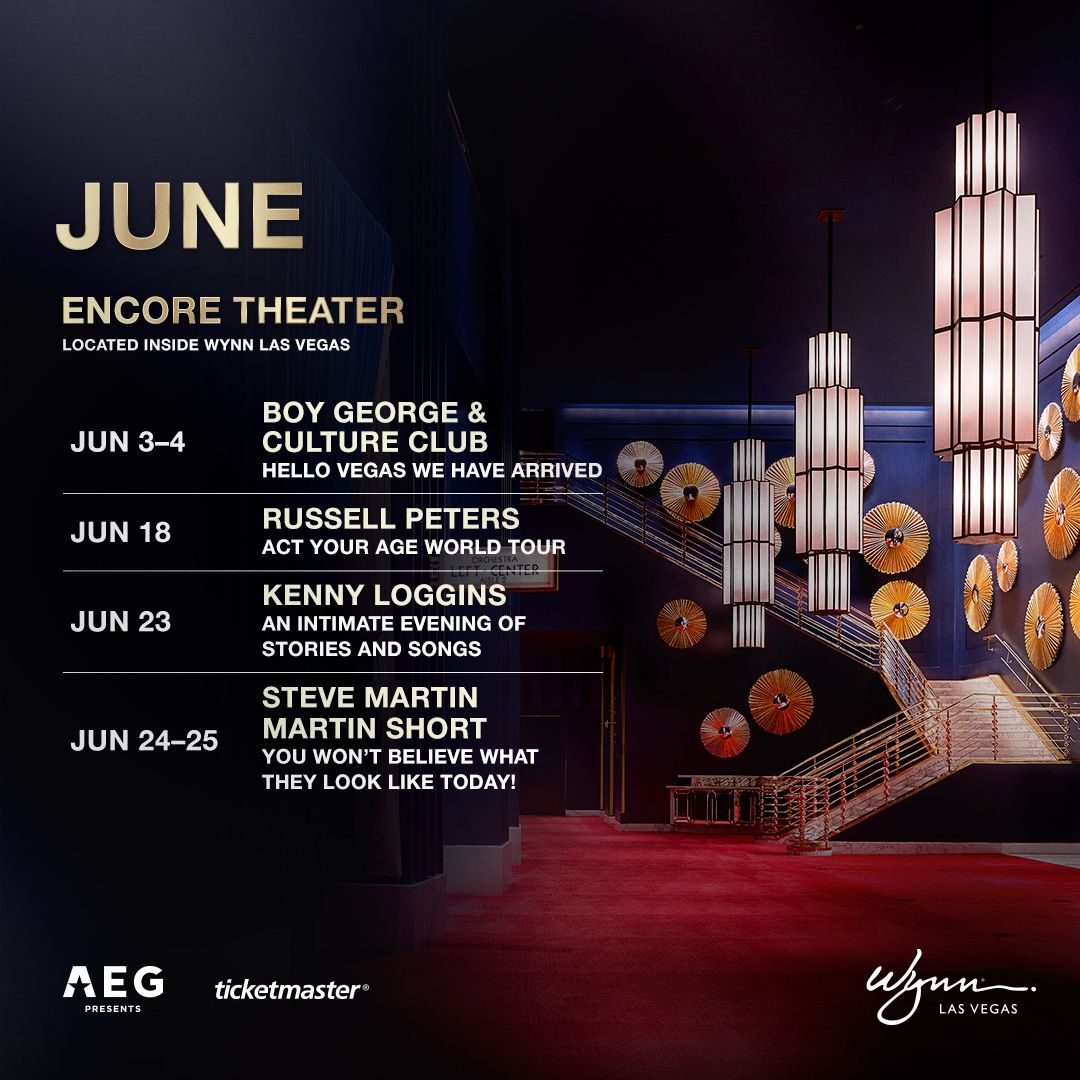 June 3 and 4 – Boy George & Culture Club
Forever leading the curve with a crossdressing Irish singer (Boy George), a black-Briton (Mikey Craig), a Jewish drummer (Jon Moss) and an ethnic Englishman (RoyHay), could they really be called anything else other than Culture Club? One of the biggest bands from the U.K. to ever hit the United States, Culture Club's career spans 40 years of new-wave pop and soul songs such as "Karma Chameleon" and "Do You Really Want to Hurt Me." Boy George's unmistakable voice guided the group of ethnically diverse musicians into selling 100 million singles and 50 million albums worldwide. Craig, Hay and George, together with a 13-piece band, play Encore Theater.
June 18 – Russell Peters: Act Your Age World Tour
He's got an all-new show and a new found sense of happiness and you can see it unfold mid-June at Encore Theater as Russell Peters brings "Act Your Age World Tour" to Wynn. Known for his observational comedy, view the modern world through Peters' hilarious lens. He was recently named one of Rolling Stone's 50 Best Comics of All Time and his last tour was seen by over 400,000 fans in 40 cities across 20 countries, culminating in the stand-up special, "Russell Peters Deported" on Amazon Prime in January 2020.
June 23 – Kenny Loggins: An Intimate Evening of Stories and Songs
More than 35 years since its original release, Top Gun's soundtrack anthem "Danger Zone" is part of its sequel "Top Gun: Maverick" and this summer you can hear the man behind the score at Encore Theater. Kenny Loggins will take the stage for one-night-only performing some of his greatest cinematic anthems. Expect "I'm Alright" from "Caddyshack," "Danger Zone" from "Top Gun" and "Footloose" as well as the stories behind his hits. Loggins has sold more than 25 million albums and won two GRAMMY Awards, leaving a musical imprint on our lives both as a solo artist and as a member of rock-duo Loggins & Messina.
June 24 and 25 – Steve Martin & Martin Short: You Won't Believe What They Look Like Today!
Steve Martin and Martin Short's "You Won't Believe What They Look Like Today!" redefines—in surprising and profound ways—what audiences have come to expect from an evening of comedy. Their humor is often subversive, but it is always a joyous self-deprecating romp as these comedic masters make each other laugh as much as the audience. The jokes come rapid-fire with little set-up and big punch lines. Martin and Short's chemistry and timing on stage reflects a friendship forged over three decades, which developed when they met on the set of "Three Amigos" in 1986. These two titans of comedy have been touring together since 2015, when they launched their first live show "A Very Stupid Conversation." They currently star in the hit show, "Only Murders in the Building" on Hulu.
Before the Show ...
Check into one of the Wynn's newly redesigned rooms, frolic on the exclusive Tower Suites pool deck, grab a drink at Aft Cocktail Deck and enjoy a taste of Baja, Mexico with a light and refreshing seafood selection from Casa Playa.
‌‌‌‌SEE ALL THE SHOWS AT ENCORE THEATER IN 2022