It's a fall of legendary artists on stage at Encore Theater now through December 2022, with many returning headliners and a few new ones, as well.
The Wynn Fall Playlist features two top hits curated from each performer — Diana Ross, Tom Jones, Lionel Richie, Adam Lambert, Duran Duran, Brad Paisley and John Fogerty. Get to know the music before you see the show and enjoy over an hour of great tunes from the witchy "Voodoo" by Adam Lambert to the infectious "Delilah" from Tom Jones.
Diana Ross
September 21, 23-24, 28, 30 and October 1
Ross is an international treasure with a career spanning more than 50 years. She is considered the most successful recording artist and entertainer of all time. Most recently she performed at the Queen's Platinum Jubilee and released a song with Tame Impala called "Turn Up the Sunshine" on the Jack Antonoff–produced soundtrack for "Minions: The Rise of Gru." In 2021, Ross released "Thank You," her first album in 15 years, featuring a song produced by Antonoff.
Right now, we are loving Ms Ross' late-disco-era classics— 1980's "I'm Coming Out" and 1976's "Love Hangover."
"I'm Coming Out"
"Love Hangover"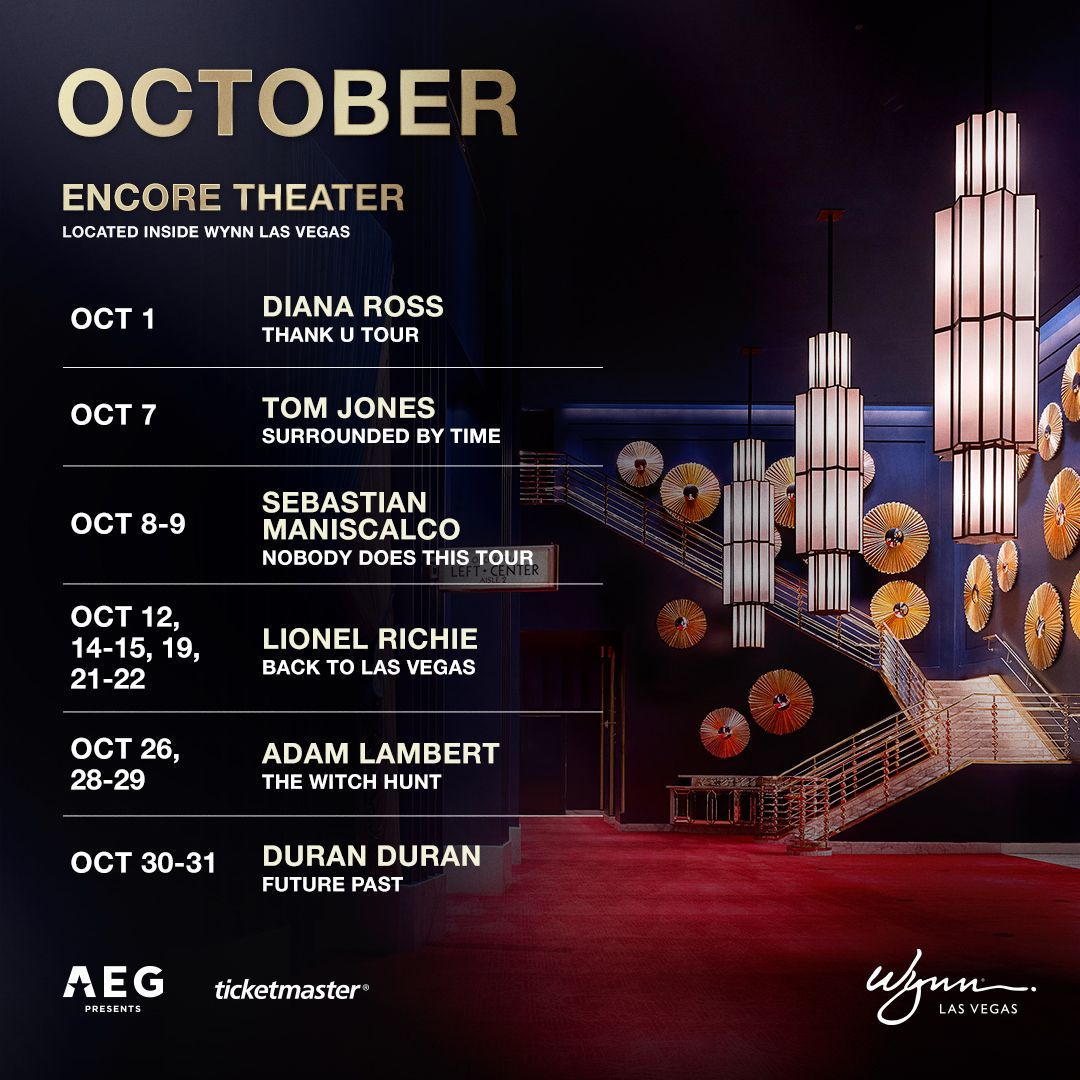 Tom Jones
October 7
Performing in Las Vegas since the 1960s, an evening with Tom Jones is an unmissable experience on the Strip. The 81-year-old Welsh singer has become a pop culture icon, sustaining his career as a live performer and recording artist for six decades.
An artist with a true rhythm and blues soul, in 2021 he recorded three hugely acclaimed albums with producer Ethan Johns (Laura Marling, Paolo Nutini, Kings Of Leon, Ray Lamontagne), including "Surrounded by Time." An avid record collector, there were songs he had set aside for decades, waiting to reach an age at which he would truly be able to do them justice.
Aside from those new offerings, nothing beats the mischievous "What's New Pussycat?" from the film of the same name and written by Burt Bacharach and Hal David and 1968's "Delilah," not to be confused with Wynn's restaurant Delilah but equally as delicious.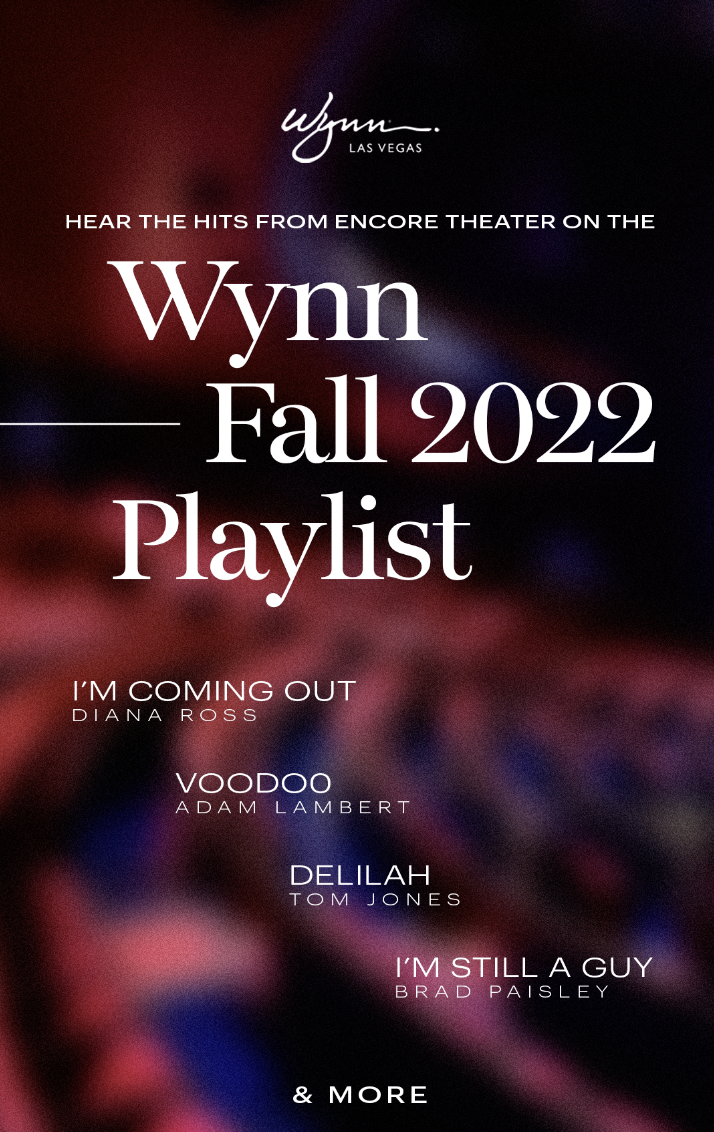 "What's New Pussycat"
"Delilah"
Lionel Richie
October 12, 14, 15, 19, 21, 22
With chart-toppers like "Hello," "All Night Long" and "Easy," Richie's live concerts celebrate an incredible songbook of music beloved by all. With more than 125 million albums sold worldwide, as well as an Oscar, a Golden Globe, four Grammy Awards and a 2017 Kennedy Center Honor, Richie's high-wattage career makes this a concert event not to be missed.
A 2022 Rock & Rock Hall of Fame inductee, our two playlist picks from Richie are "Endless Love," his unforgettable 1981 duet with fellow Encore Theater headliner Diana Ross; and the early-career-maker 1977's "Brick House" from his time with The Commodores.
"Endless Love"
"Brick House"
Adam Lambert
October 26, 28 and 29
From almost winning the eighth season of American Idol to touring the world with Queen, Adam Lambert's career just keeps getting hotter.
In 2009, Lambert released his debut album "For Your Entertainment," which included the international hit, "Whatya Want From Me" and earned him a Grammy Award nomination; as well as the witchy "Voodoo." Those two songs lead our must-hear list from Lambert but that is only the tip of the iceberg.
"Voodoo"
"Whataya Want From Me"
Duran Duran
October 30 and 31
British music icons, Duran Duran have sold over 100 million records, had 18 American hit singles, 21 UK Top 20 tunes and have continued to perform to huge concert audiences around the world since they first formed in 1980. The band brings their "FUTURE PAST" Tour to the Encore Theater. Witches, ghosts, ghouls and goblins are welcome at this celebratory show that takes place over Halloween weekend.
This fall in honor or their induction into the Rock & Roll Hall of Fame, check out the 1990s according to Duran Duran and relive the memories of that era with "Come Undone" and "Ordinary World." These songs symbolize the band's coming-of-age into a full, emotionally rich sound.
"Come Undone"
"Ordinary World"
Brad Paisley
November 4 and 5
Brad Paisley has earned his place in country music history as one of the genre's most talented and decorated male solo artists. Over the past 21 years, his songwriting and unmatched showmanship have won him numerous awards, including three GRAMMYs, two American Music Awards, 14 Country Music Association Awards and 15 Academy of Country Music Awards, among many others.
When delving into his catalog, a good entry point is Paisley's third No. 1 hit, the quintessential country song, "I'm Gonna Miss Her." From there, check out "I'm Still the Guy," a singalong concert fave.
"I'm Gonna Miss Her"
"I'm Still a Guy"
John Fogerty
November 9, 11 and 12, 16, 18 and 19
The career of the Rock & Roll Hall of Fame legend spans more than 60 years—with a catalog of music that can only be defined as classic, all-American rock.
Every time we "sense" something looming, Creedence Clearwater Revival comes on and like clockwork "Bad Moon Rising" and "Fortunate Son" set the tone for the excitement of unpredictability.
"Bad Moon Rising"
"Fortunate Son"