Sometimes, smaller is better. And when it comes to weddings, intimacy often brings ease. As a result, many couples are now choosing micro weddings — cutting their guest list to under 50 people and selecting venues that come with all the luxury amenities they desire.
When thinking about getting your circle of trust together to celebrate the best day of your life in an unforgettable setting where every whim and desire is within fingertips reach — Las Vegas undoubtedly enters the chat.
If you are asking yourself, "What do you need to pull off a micro wedding in Las Vegas?," here are some things to consider before embarking on this adventure.
Identify the Perfect Venue
The Wedding Salons at Wynn offer spaces for weddings of all sizes; however, the elegant and intimate Lilac Salon is ideal for up to 60 guests.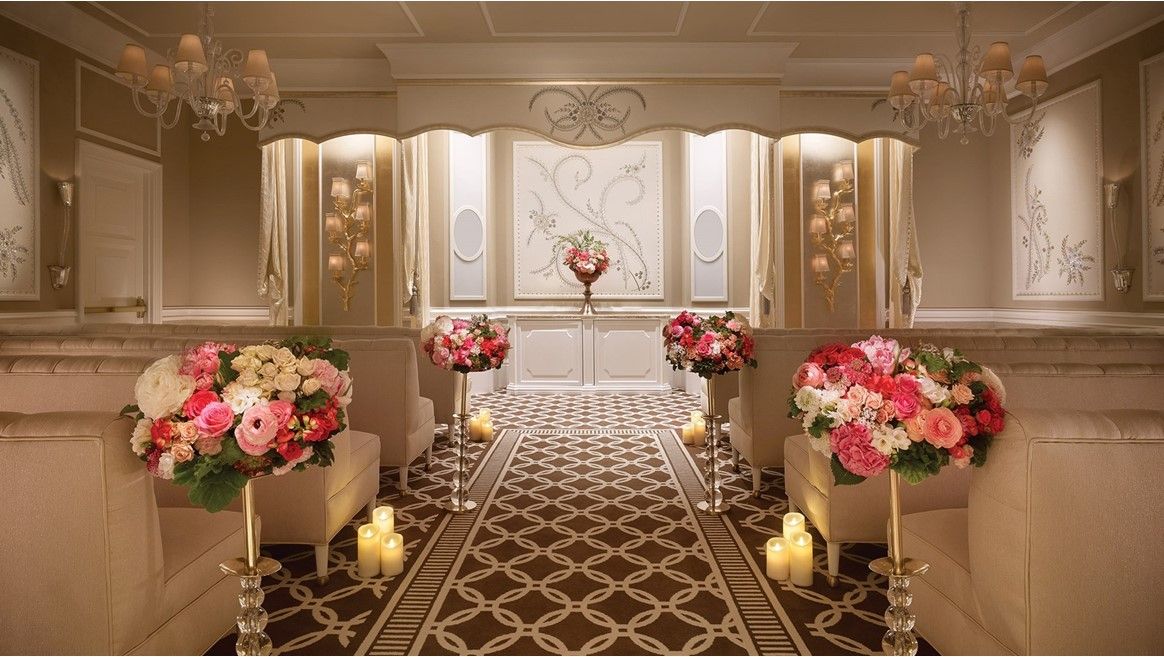 There are a variety of comprehensive ceremony packages and ceremony plus reception offerings that can be customized.
BOOK AN AUTUMN ELEGANCE WEDDING PACKAGE
Select a Location with a Wedding Manager
Even if you are going small, you will undoubtedly need help on your wedding day so you can fulfill your assignment as the bride or groom. This is why you will want to seek out a location that offers the service of a wedding manager.
When you make an appointment to tour the Wedding Salons at Wynn, upon your arrival, there is a personalized sign at the entrance welcoming you and your partner. Couples are then brought into the warm and sparkling reception enclave and greeted by their dedicated wedding manager.
"Once couples have met with their wedding manager, that will be their person through the entire process — even on the day of the ceremony," says Erica Kyles-Pauley, manager of Wedding Salons at Wynn. "That's something exclusive to Wynn that not a lot of other places do. The person you've been planning with here at the wedding salons is going to be with you every step of the way, including on your wedding day, to make sure that everything that you've planned comes to fruition. That gives our couples a lot of comfort to know."
Go Turnkey
"If we're handling the ceremony, that means we're taking care of flowers, your officiant, photography, videography, everything that you would need," adds Kyles-Pauley.
Beyond the ceremony, many opt to also have their reception at Wynn for a seamless experience — couples meet with catering and restaurant event managers without missing a beat. Every detail of the wedding day is covered.
"If you're having a reception at the resort, we're going to carry that level of personal attention over to your reception. We're going to make sure you have photo coverage at the reception, that the centerpieces for your tables are perfect. We will coordinate with Catering and Restaurant Events to ensure a seamless experience."
Stay in One Location
The last thing anyone wants to do is be running around to multiple locations on their wedding day. The Wedding Salons at Wynn go above and beyond for couples. If you forgot to make a salon, barber or spa appointment — it will be taken care of in an instant. Need to schedule a seaming? Done. Need a ring or other wedding day piece? The retail outlets at the resort are ready to help.
"These are some of the personal,  finishing touches that we put on every wedding event at Wynn," Kyles-Pauley concludes. "It is always our pleasure, and our couples are always very thankful for that."
Don't Forget the Paperwork
Often, the marriage license request can simply be filed online, but couples will still need to pick up the paperwork in person. That piece of paper must be present at your ceremony; otherwise, you can't proclaim you are legally married. Visit Weddings.Vegas, the site of the County Clerk for your marriage license application.