Order these six must-try dishes at this limited-time pop-up dining experience
Chef Min Kim knows how to command a room; even before he enters it. A Michelin-recognized chef, Min's passion precedes him and is evident in every detail — not only in the food he prepares but in the spaces where he creates and serves up his masterful culinary creations. His newly-opened pop-up, Min's Test Kitchen located within Jardin at Wynn Las Vegas, is no exception.
Before guests dine on the innovative Asian dishes at Min's new digs, a temporary location while Mizumi — at which Min is the executive chef — is closed for renovations, they are treated to unexpected elements like pop art, cool fashion merchandise, music and a curated cocktail menu by mixologist, Mariena Boarini. This immersive approach was all part of Min's vision.
"The Test Kitchen is a chance for me to have fun and showcase my personality through each element in the room," Min says. "I want my guests to experience a culinary journey through places like China, Korea, southeast Asia, and Japan. By tasting food from different countries and regions, my guests will also get a taste of new traditions, cultures and lifestyles."
Telling Stories
From Seoul to Tokyo to Sydney and Macau, Min's career has spanned the globe, but began at home in Korea where his father ran a traditional Japanese restaurant. After attending college in Australia, he returned to Seoul and worked alongside his dad for two years before moving to Tokyo to hone his skills at the Michelin two-starred Narisawa, the Michelin three-starred Ryugin, and in Cotai, where he helmed Mizumi at Wynn Palace.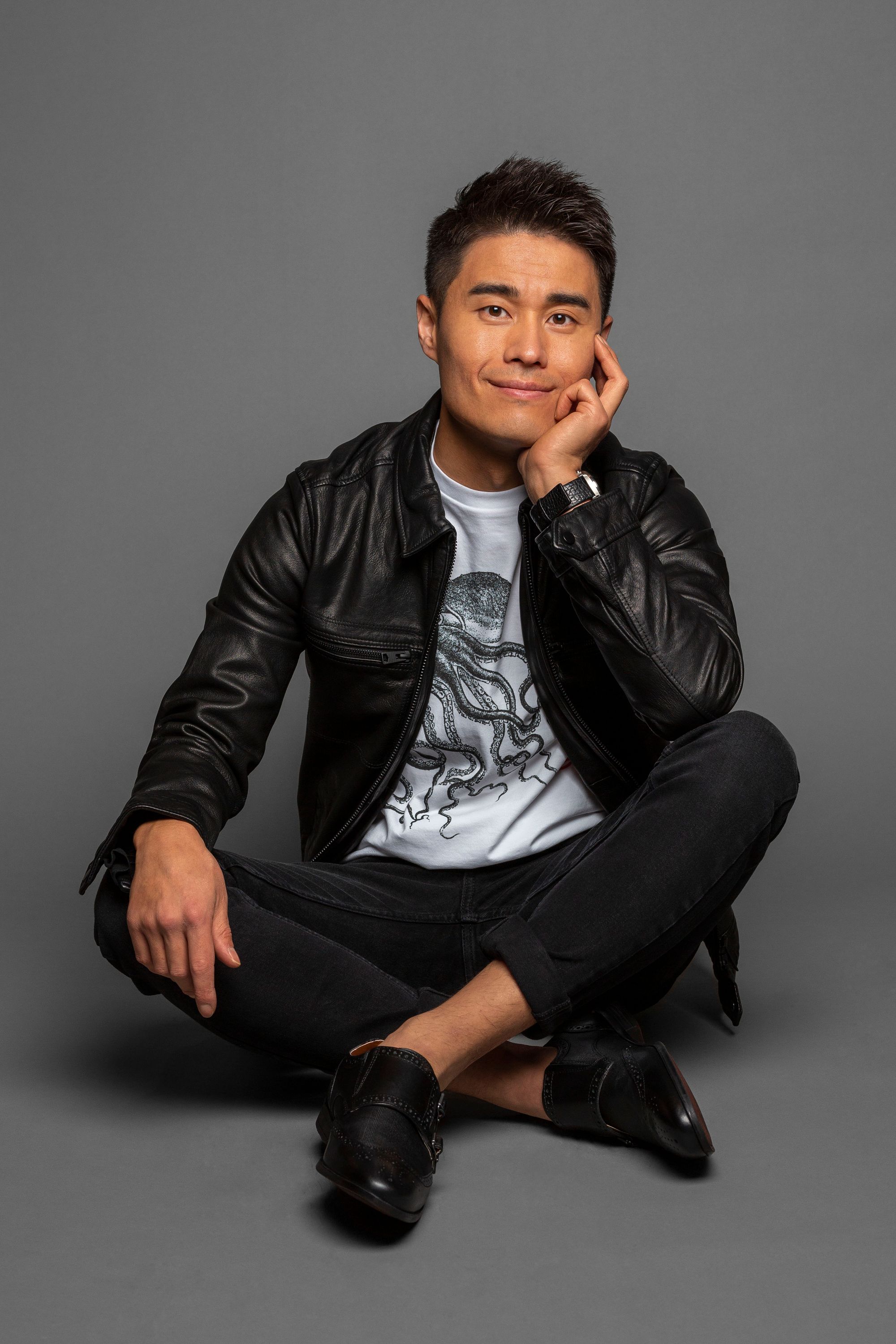 These places and experiences are the inspiration for the dishes on his menu, many of which come with personal stories behind them. Min shared some of those stories when he sat down recently to talk about the cuisine he's created especially for Min's Test Kitchen.
Steamed Pork Belly Bossam
Pickled radish, lettuce, fermented soy bean
"This dish is very nostalgic for me. It makes me think of a late night snack when I was a kid in Korea. My parents owned a restaurant where my dad was the chef and they would sometimes bring this home for me after closing. It's not something one might ordinarily see on a fine dining menu — but I've finessed it for this menu and this experience."
Cod Karaage
Silken tofu, ice plant, dashi soy, brown rice vinegar
"I had a favorite restaurant I would frequent when I lived in Hong Kong. The local fish they served came out to the table in a metal pan, sizzling with the oil popping and a delicious aroma — I always thought that was cool and quite theatrical. This is a contemporary and beautiful version of that dish."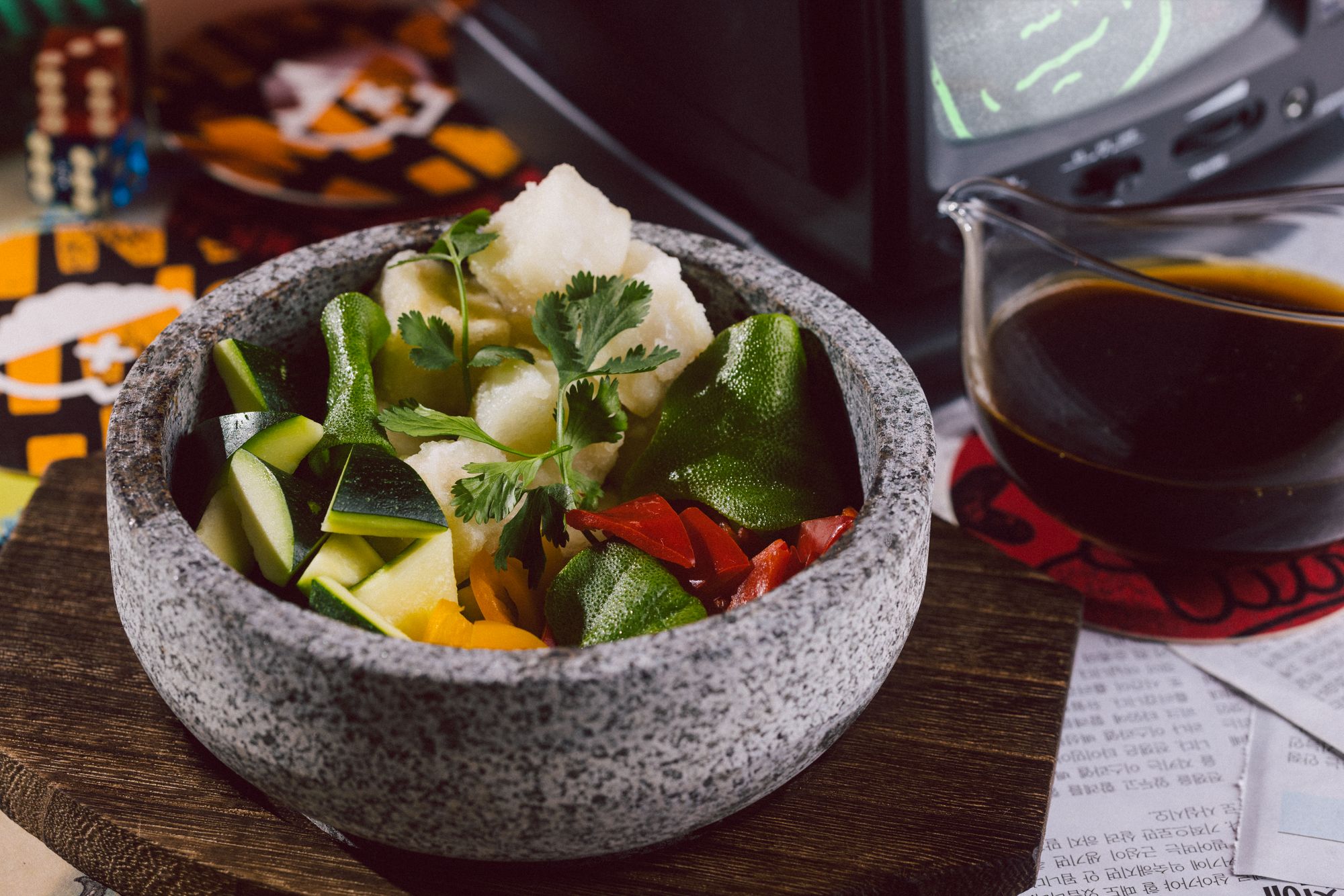 Beef Wagyu Tartar
Avocado, horseradish, white kimchi
"I tasted so much Wagyu before I came upon this from the prefecture of Kagawa. It has the most unique flavor — the cattle on this ranch openly graze on the leaves of olive trees that grow along sweeping hillsides above the sea. This dish stands alone on the sheer high-premium quality of this wagyu that I have flown in from Japan."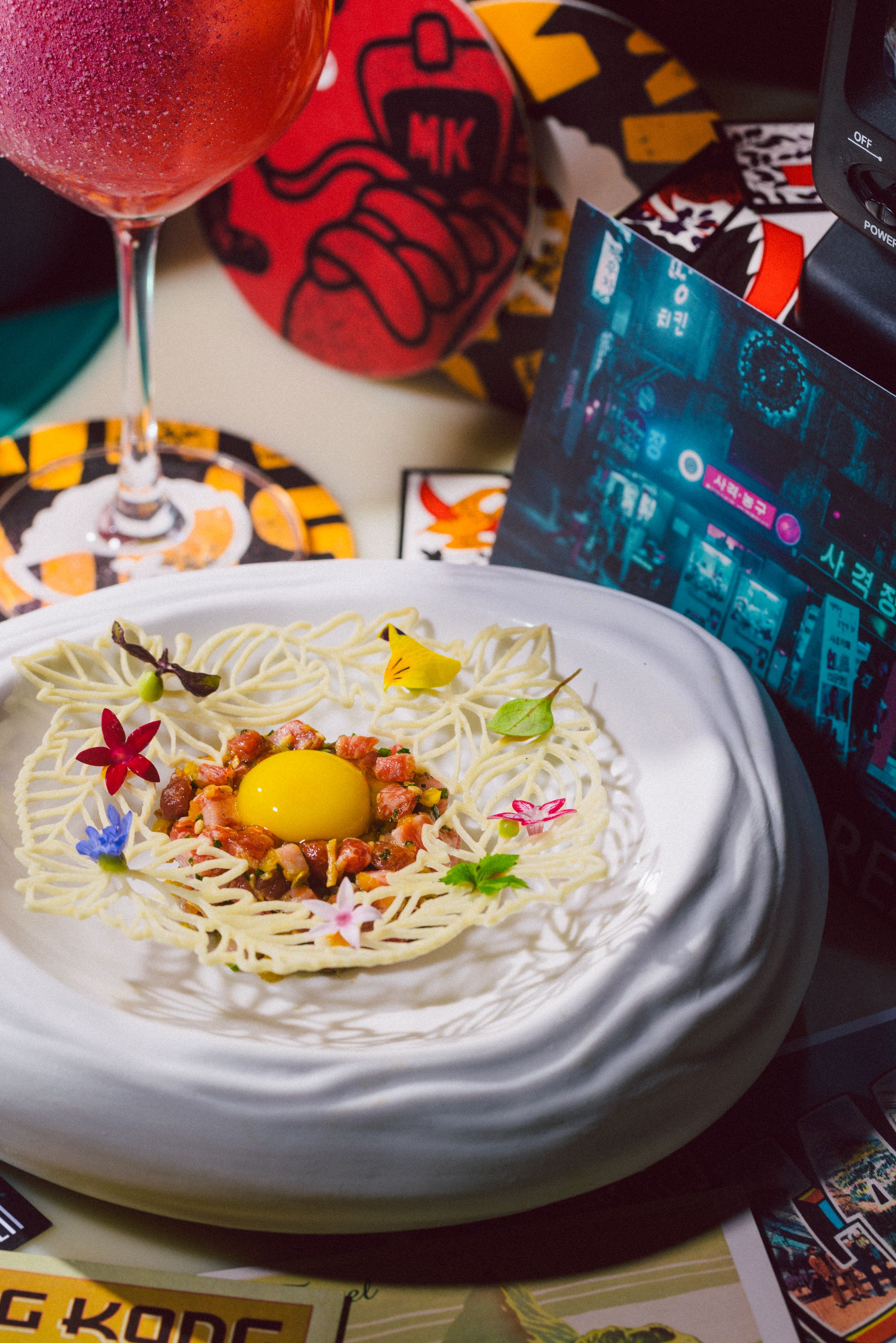 Korean Fried Chicken
Peanut butter sauce, gochujang paste, pickled radish
"Korean fried chicken is one of the most common comfort foods in Korea. Because it is so nationally recognized, I knew I wanted it on my menu. The key to getting the right amount of crunch on the chicken is to triple fry it at three different temperatures. The special marinade we use before frying ensures the chicken is always moist and flavorful."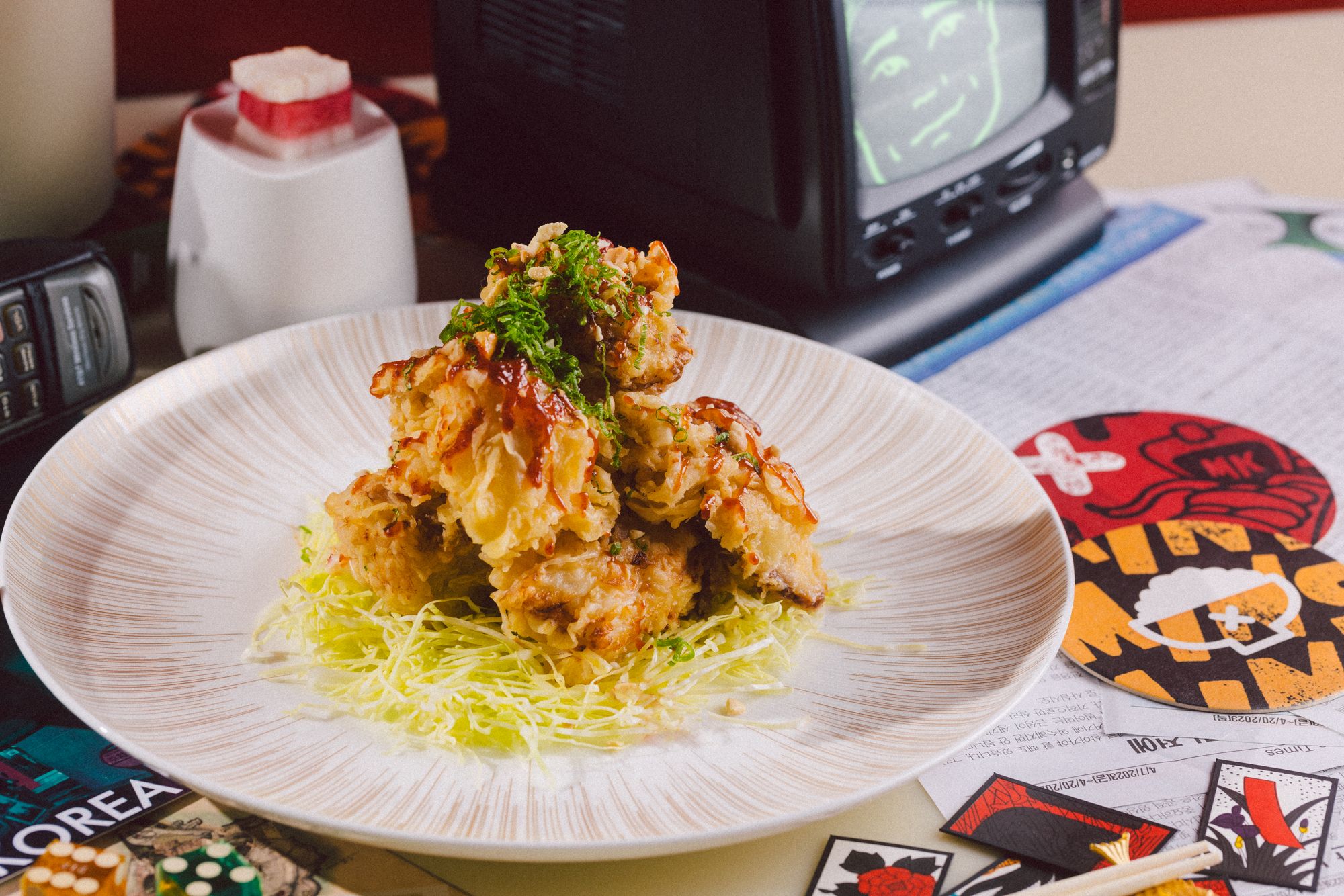 Crispy Brussels Sprouts
Kimchi dressing, toasted almonds, green onions
"For this dish, I introduce the fermented element by pureeing Kimchi into a dressing for the Brussels sprouts. It brings the traditional flavor of kimchi to the Brussels sprouts for a unique flavor combination."
"Hon Maguro" Otoro
Garlic oil, dark soy ponzu, freshly shaved black truffle
"The Otoro used in this dish is a highly prized ingredient and one that I have flown in daily from Japan. My inspiration behind this and all the contemporary sashimi on the menu is to provide the absolute freshest ingredients possible and to recreate the experience you'd have in Japan — right here in Las Vegas."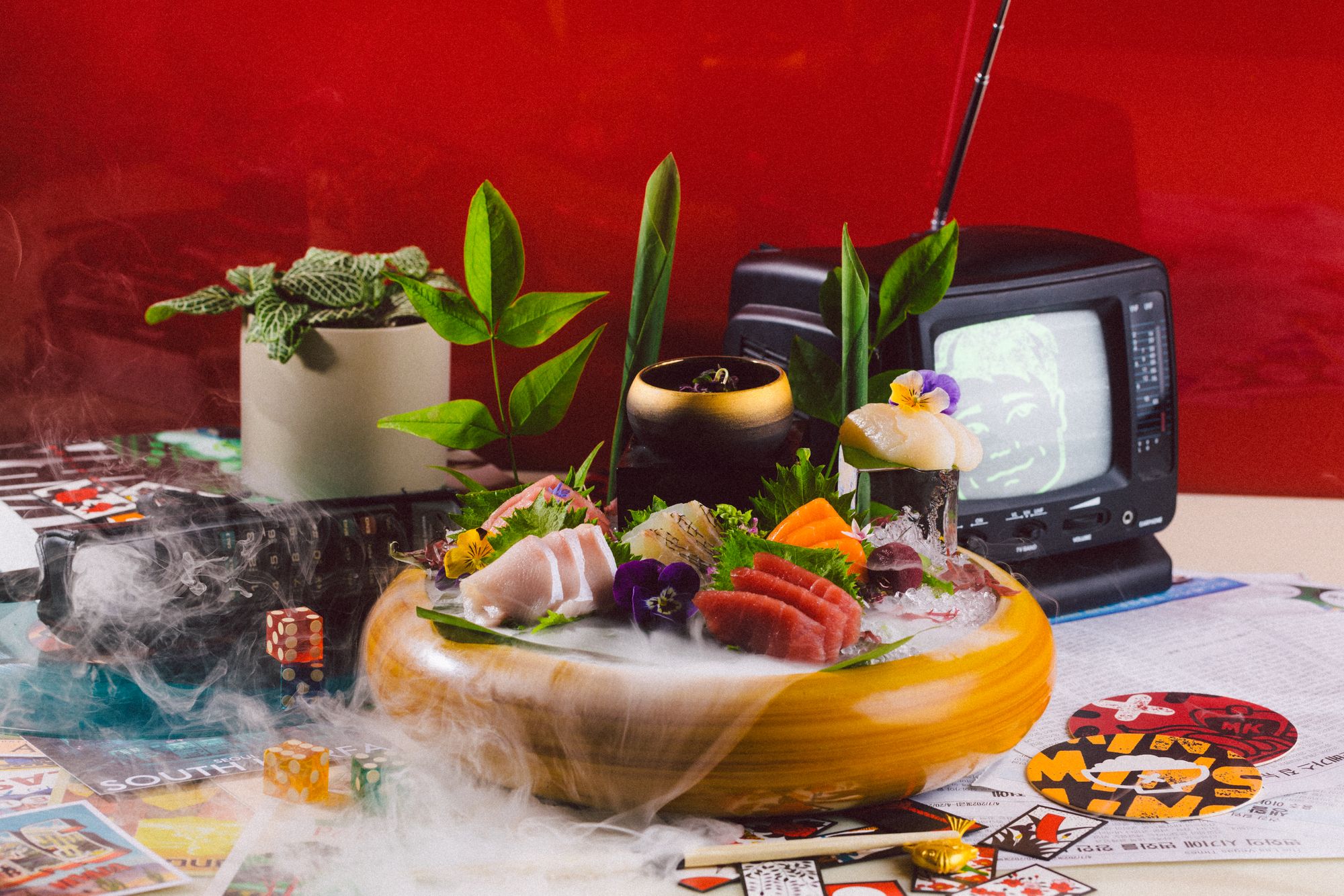 For Your Eyes Only and Omakase
Get the drop on Min's secret menu items. Guests receive exclusive updates on special off-menu items known only to subscribers by texting CHEFMIN to (773) 770-4377. Guests may also request the Omakase — "trust the chef" — experience with a hyper-seasonal degustation menu curated by Min.
Now You See it, Now You Don't
Min's Test Kitchen pop-up is only open until fall 2023, so be sure to make reservations for the dining event of the summer season only at Wynn Las Vegas. Open Tuesday–Saturday, 6–10 p.m.
Make reservations and see the full menu for Min's Test Kitchen here.