By Andrea Bennett for Wynn Magazine
When Min Kim arrived in Macau to open Mizumi in Wynn Palace in 2016, he had already traveled an impressive route as a young chef, from serving as an apprentice in his father's Japanese restaurant in Seoul to honing his skills at the two-Michelin-starred Narisawa and three-Michelin-starred Ryugin, both in Tokyo, before decamping to Sydney. At the acclaimed Sokyo, he added intricate French technique to his Korean and Japanese cuisine and was later headhunted to helm Sake Restaurant in Sydney's Double Bay. Now, half a world away, he lands in Las Vegas to become the executive chef of Mizumi at Wynn Las Vegas.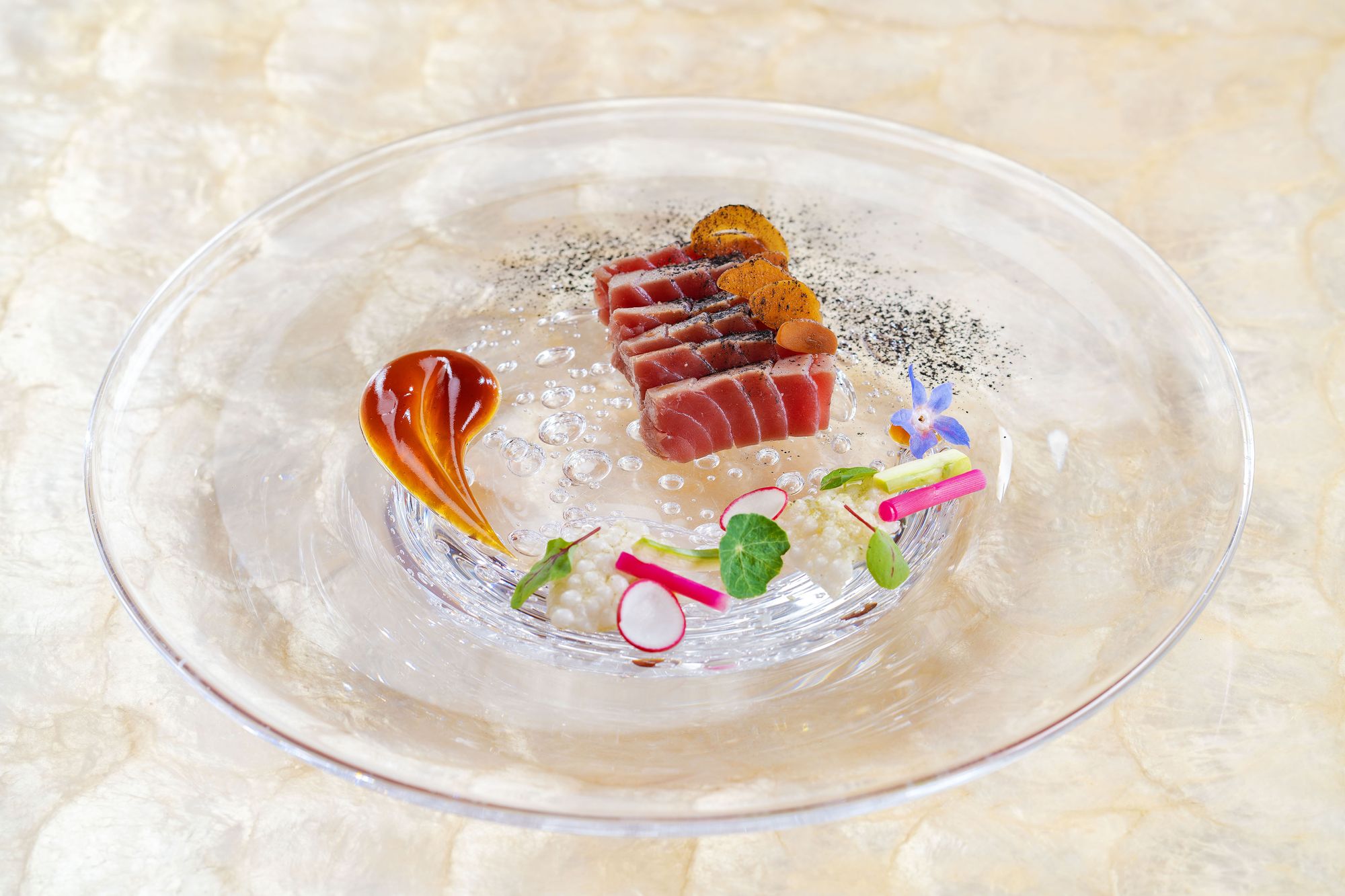 We caught up with the chef as he embarked on his ambitious new plans in Las Vegas.

You have had quite an international tour. What are your greatest influences?
My biggest influence has been my dad, who has been working as a chef his entire life and working with legendary chefs in Japan. They all taught me the foundations of being a chef and how to maintain my work ethic. Working in a Japanese kitchen is all about the details and precision. Without having a high level of self-discipline, it is almost impossible to survive in that environment. In Japan, you are constantly working and have to give up your personal life to become a chef in a top restaurant. When others work 90 hours, you put in 100. If they work 100 hours, then work 110 hours to stay ahead. That whole process shapes you to become a great chef. My time in Tokyo was probably the most valuable time of my career and elevated me to the next level. I learned there that it's not about doing things that other people are already doing but differentiating yourself by being innovative and creative.
BOOK YOUR TABLE AT MIZUMI TODAY
Would you say that creativity is your operating philosophy in the kitchen?
A lot of restaurants do very similar things these days. They all copy from one another because it is very difficult to be innovative. My philosophy is quite simple: Source the best seasonal ingredients and cook them perfectly with the most appropriate cooking technique to bring out their best flavor. Authentic Japanese cuisine is simple, and we focus on the essence of ingredients—but to properly attain that essence, you must have the perfect cooking techniques to showcase the ingredients.

What was the experience like, opening Mizumi in Wynn Palace?
It was an extraordinary experience opening in such a huge and luxurious resort as Wynn Palace, because we needed to achieve the level of excellence Wynn requires on a daily basis on a large scale. Working with a different culture was challenging, especially when I didn't know how to speak the language when I first arrived, but I learned incredible lessons by working in a completely new environment.
While you were in Macau, Mizumi was named among the top 20 restaurants in Macau by "100 Top Tables 2017," a dining guide published by the South China Morning Post, and a Forbes Travel Guide 5 Star restaurant in 2019.
It was a glorious time for my team at Wynn, because it showed what we had invested so much time to achieve. It gave the whole team the sense that all that hard work wasn't wasted.