Peppery, floral, citrusy, and earthy: Some of the most nuanced flavors around Wynn restaurants come straight from the flower garden.
By Andrea Bennett for Wynn Magazine | Photography by Sabin Orr
Chef Min Kim receives as many as five flower deliveries a week, and if you were to visit him in his kitchen in Mizumi, you might find him eating them. Or at least sampling their petals. As you might have guessed, Kim is not snacking on gifts from admirers; the flowers serve a distinct purpose in his dishes. Since the flavors of even the same flower varieties can vary from season to season, considering them as individual ingredients is crucial.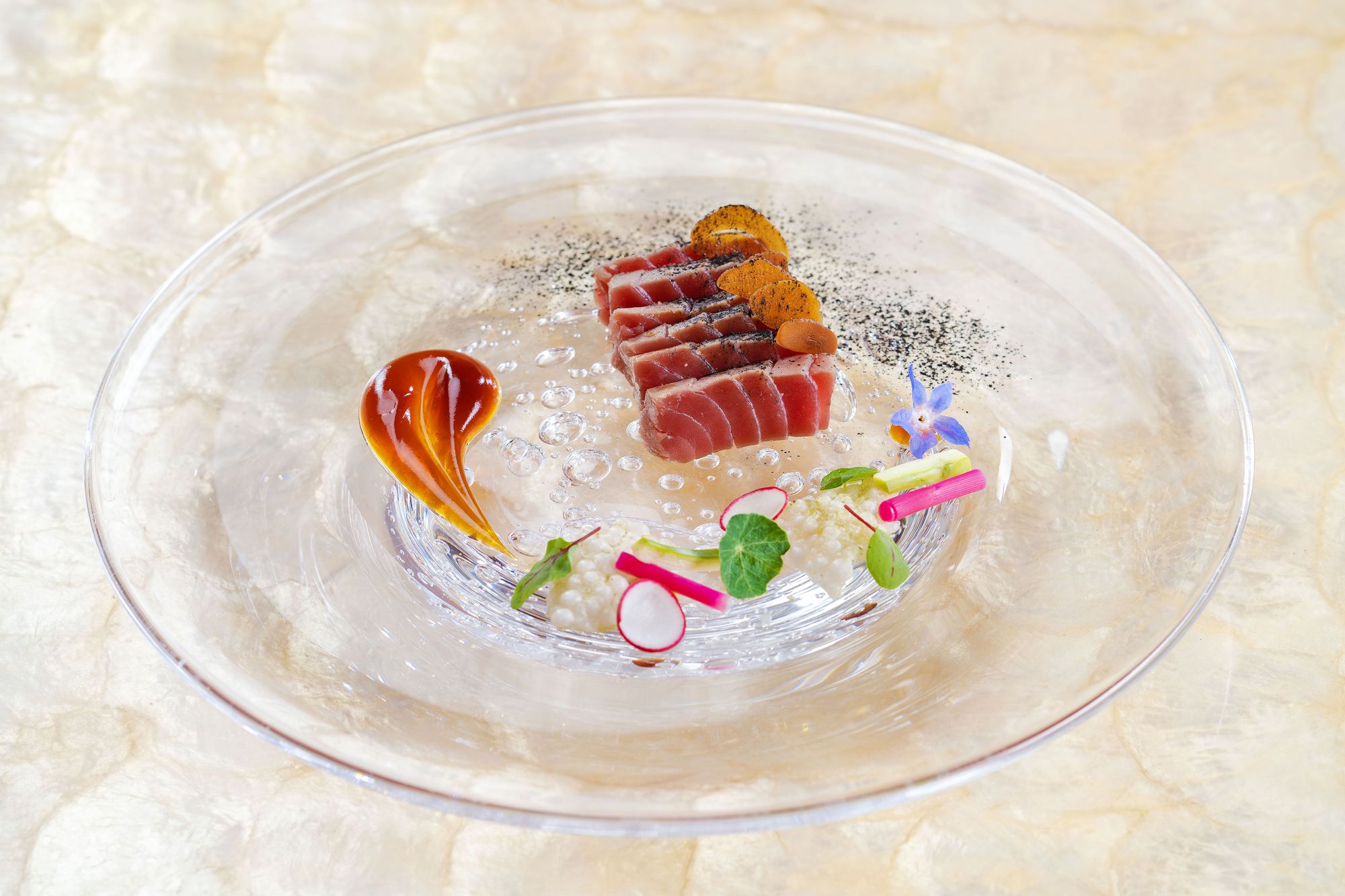 "The flowers we get in spring and summer are a lot more floral, a lot milder and sweeter. As the season changes to winter, we get more intense and even bitter flavors, so I alter a dish based on those changes. In some dishes, if I'm looking for a little bit of pepperiness, I'll try and source the flower that will add that kind of note to the dish," he says. For instance, in the winter, he uses peppery nasturtium to balance the richness of pork belly.

Mizumi's famously delicate madai snapper sashimi usuzukuri with white soy and lime dressing is always on the menu. In the summer months, Kim might scatter it with acacia flowers for their floral honeyed notes and in winter switch to more intense blossoms and microgreens. The visual effect of the dish, scattered with multicolored blossoms, is potent. "When you're using a flower, the color scheme becomes more vibrant and fun, but at the end of the day, it's a food," Kim says. "So it has to come down to the way it tastes."

SW Steakhouse and Lakeside Executive Pastry Chef Michael Outlaw jokes that it can look like the two restaurants are running a flower delivery service at times since they use so many edible blooms.
"Everything should have a purpose on the plate. When I create a dish, I like to think about how it evolves and how it serves the progression of the meal," he says. Having worked for Japanese Peruvian as well as for French restaurants, he considers umami flavors, textures, and colors. "Marigolds are a little more pungent, but they have citrus notes," he says, "and violas have a floral note. If I'm looking to lighten up a dish, I might use a flower that way."
You'll find violas on his Key lime pie at SW for this reason.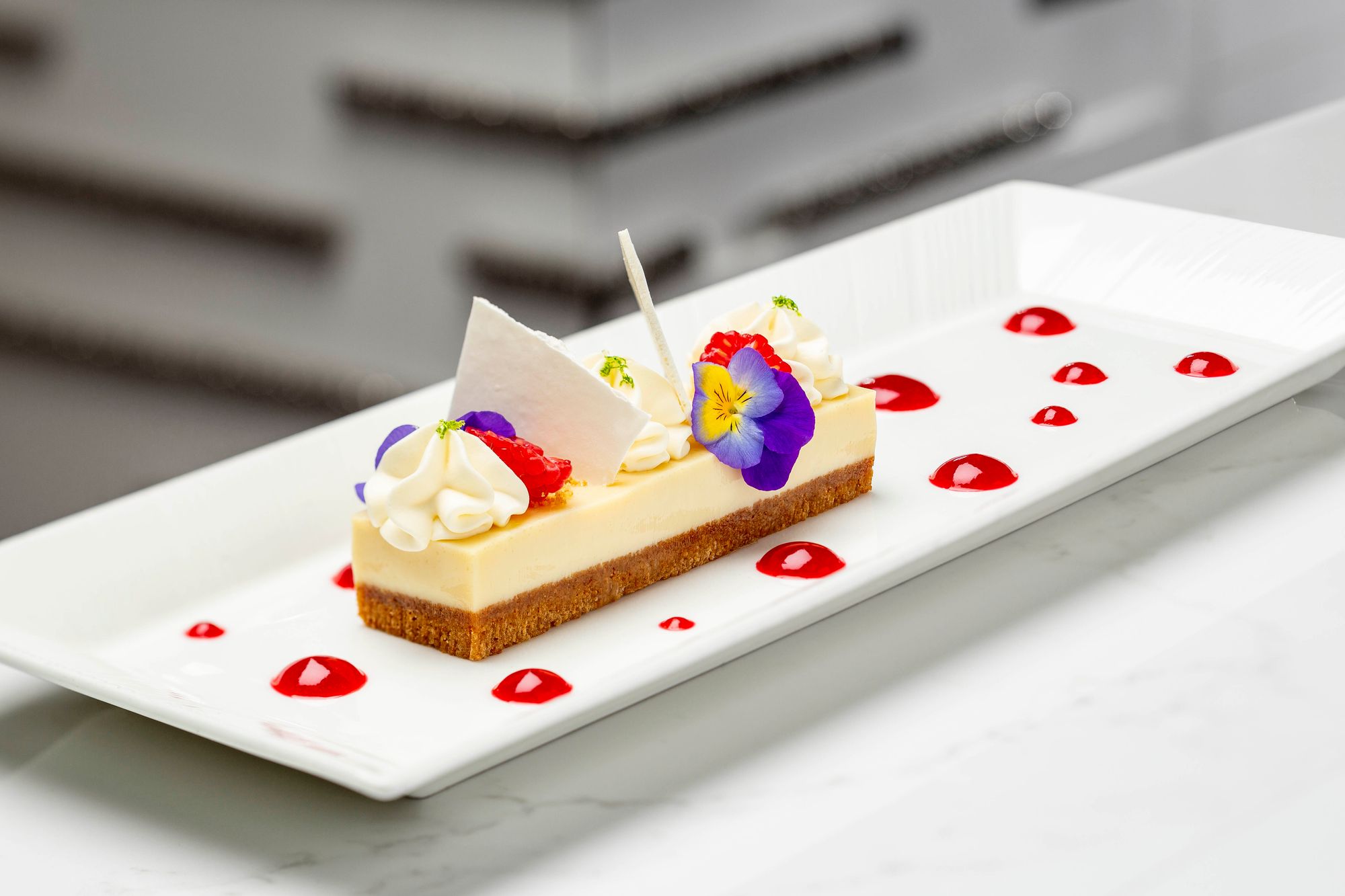 "I make a sweet custard base but add lime zest on the top and bring in the floral note of the violas to lighten up the dish," he says. "In this way, you leave a steak dinner with something that's light but still rich in flavor."
The blooms come in colors like maroon with yellow, a vibrant gold and yellow, and yellow with purple petals. Outlaw uses the latter to make the Key lime colors pop.

Though diners these days might not be accustomed to flower petals on the plate, their culinary use has been well documented since their first recorded use in 140 B.C. Romans had a special penchant for eating roses and violets. The early Incas and Aztecs used marigolds in their most important rituals. During the Renaissance, play audiences dined on stewed primroses. Nearly every culture has revered calendula, from the Romans, who named it since they saw it blooming on the first days of the month, to medieval monks, who used its golden color as a "poor man's saffron" to brighten up soups and stews in the dead of winter. And violas, a genus of flowering plants in the violet family, have served every purpose from preserved sweet syrup made by monks to candy gems the Victorians associated with luxury and placed on cakes.

"In China, they have been using flowers in cooking for more than a thousand years," says chef Ming Yu of Wing Lei, who not only uses flowers for their nuanced flavors in dishes like his Alaskan king crab salad and smoking five-spice duck leg but respects their traditional medicinal use as well. "Chrysanthemum helps lower blood pressure and treats colds and fever. Lavender helps us to sleep better. Garden nasturtium helps our respiratory system," he says.
Nostalgia, too, plays a part in chef Ming's use of flowers.
"My favorite food growing up was the chrysanthemum hairy crab in China. I grew up eating that and it's been around for over a hundred years. I got my inspiration for the Alaskan king crab salad from that memory."
Yuzu and white miso give the dish a little tang, but its floral, almost chamomile flavor comes from subtle notes of chrysanthemum.
"You see a dish that's beautiful, you smell the fragrance of it, and even before you take a bite, it should be a total sensory experience from the moment the dish is placed in front of you." – Wing Lei Chef Ming Yu

Some of Mizumi's dishes, too, spring from a wellspring of nostalgia. "When I think of certain fish dishes that I cook, they bring back a memory of my childhood," Kim says. "My dad used to cook Japanese sole wrapped up in lotus leaf with lotus flowers. When you pick it up from the steamer, it becomes very floral; there's an almost Zen smell to it. I'm sure that's why every time I make sole, I have to put a lotus component in it."

Though chefs will always approach edible flowers with a "food first" philosophy, Outlaw's Pretty in Pink dessert was driven by aesthetics, though every pink component needs to make culinary sense.
"No matter if you're in a very light or a very dark setting, when you have the color pink in front of you, it shines beautifully," he says—and it makes its diner look pretty too.
The dish, which you'll find at Lakeside when it returns in the spring, is a plate of vanilla whipped panna cotta, strawberry meringue, and strawberry rosé sorbet—at once citrusy and floral from star-shaped Egyptian flowers, and palate-cleansing, creamy, and comforting from its sorbet and cream elements. It's a dish that tugs on every sensory string.
After all, says Chef Ming, "You see a dish that's beautiful, you smell the fragrance of it, and even before you take a bite, it should be a total sensory experience from the moment the dish is placed in front of you."