If you see Angelica Miozza, Wynn Las Vegas assistant chef concierge, walking around the resort, the first things you might notice about her is her bright smile and affable demeanor. But, if you are a devotee of luxury hotels, your eyes might catch the shine of the "Golden Keys" she wears on her lapel.
These keys mean you are in the presence of greatness as Les Clefs d'Or, or "Golden Keys," Concierges work at only the world's best hotels. Their recommendations are driven by knowledge, opinion and never commissions.
"As a concierge, you talk to people as if they are your best friend. They trust you," she says.
Winning Big
Miozza is one of seven on the Wynn concierge team who are members of Les Clefs d'Or, the most prestigious organization in the hotel industry, an international association of more than 3,500 professional concierges. In 2020, she was nominated to represent the United States in the Les Clefs d'Or Award competition and in May 2022, she won the top prize at its annual board of directors meeting in Marrakesh, Morocco.
The award was first established at the organization's 55th International Congress in Denmark. Every year at the International Les Clefs d'Or Congress, each of the 44 member countries nominates one individual to represent them on the global stage, undergoing an extensive screening process that puts their knowledge of travel to the test, as well as guest correspondence, a video presentation, interviews and networking. Her exemplary performance in these challenges is fed by a base of knowledge Miozza built over the last 14 years through her career at Wynn.
Helping guests with their most important requests has been Miozza's mission since she took a job at the resort in 2008 while attending University of Nevada, Las Vegas.
"I started at a pop-up reservation desk at Fashion Show mall," she said. "I was always hungry and wanted to learn every single reservation system possible. I learned all the systems. After that, there was an opportunity to be a concierge and I said 'I know everything Wynn,' why not know the whole city of Las Vegas. It was a very natural progression."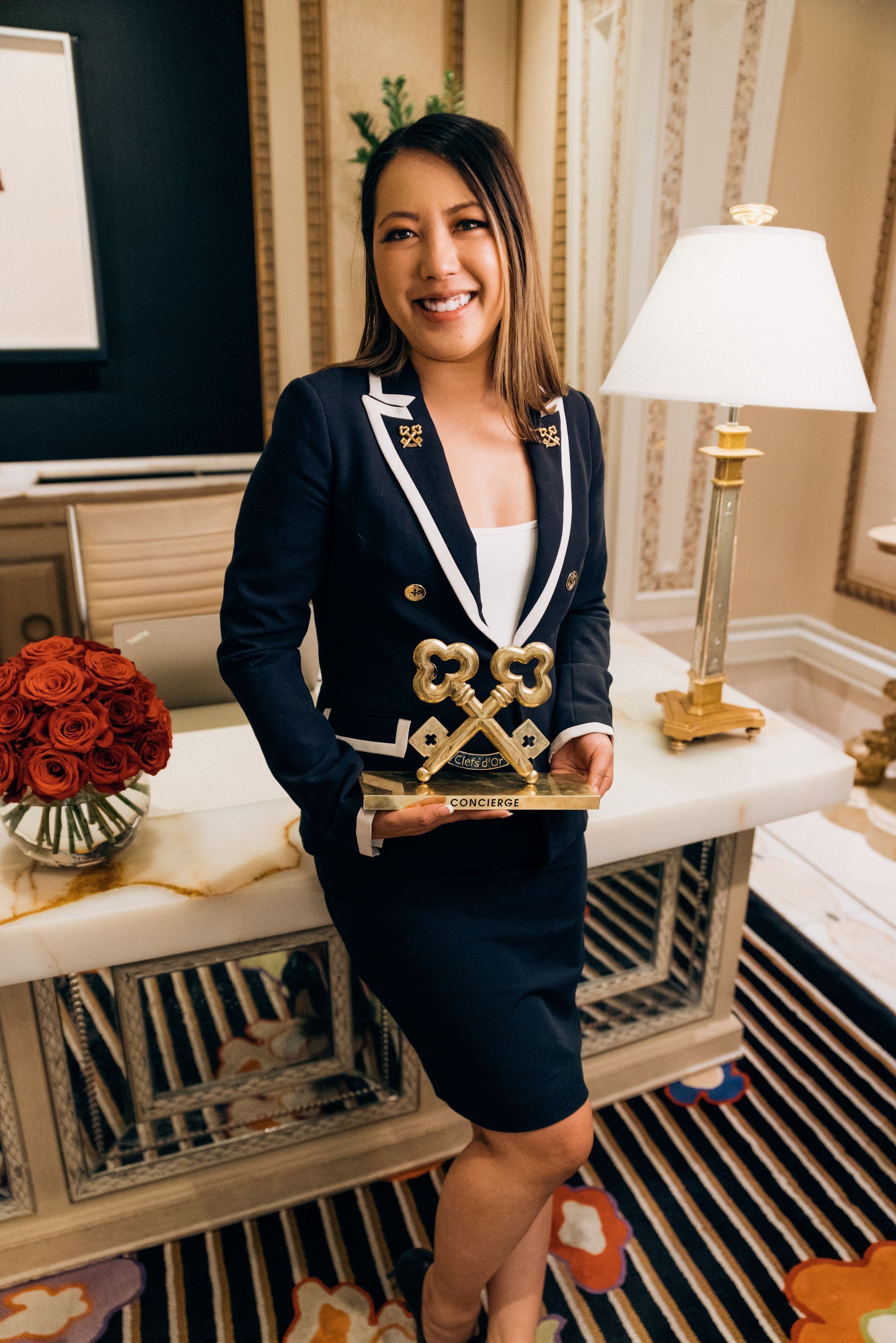 Described as the nucleus of the resort, Miozza's job as a concierge is to be nosy and know everyone's roles because it is superior knowledge that makes guests feel at ease when speaking with a well-informed concierge. "As a concierge, you are an expert on the city. I always encourage people going into hospitality that front desk and especially call center are great foundations because you get to learn the hotel business and how it works," she says.
A 'Chef' That Doesn't Cook
Despite what her title says, this "chef" doesn't work in a kitchen.
"My title is very French. It's 'chef' concierge, chef meaning 'boss.' I can make a mean sandwich, but I don't cook at work," she says.
Likening her sense of humor to Awkwafina, or Ali Wong, she didn't think a management role suited her until she became part of the Lead Program, designed for those on the concierge team who want to pursue leadership — and teaching an understanding of operations beyond guest requests.
"Wynn's culture is always about mentoring and striving for excellence, so it is a great program," Miozza says.
She's spent her career opening doors and now she does so with the Golden Keys.
"I think I've received every question under the moon," Miozza says. "As a concierge, we assist with anything, legal, moral kind or ethical."
The outrageous requests run the gamut, from having the Rolex store opened during the middle of the night so a customer could purchase a timepiece after winning a big jackpot to hiring a helicopter to fly a shirt left behind by another guest to Los Angeles. She performs tasks large and small from marriage proposals to chasing down buses for lost luggage to booking shows and dining reservations.
Miozza recently orchestrated a birthday surprise for frequent guest Malee Mann of Scottsdale, Ariz., who celebrated her 90th at Wynn. Taking part in the Wing Lei Master Class, Mann received a beautiful birthday cake at the end of the event and well wishes from all of those in attendance, making her feel extra special on her momentous day.
The 7 p.m. Dinner Reservation Dilemma
"Everybody wants to stay here and many guests only want to eat at Wynn, which is a good and bad problem to have. With a 4,700 room resort , I cannot fit 4,700 parties into 7 p.m. reservations, which of course everybody wants. So, I do refer out."
And a concierge that can smoothly sail all waters is one who truly holds the keys to the city.
"I love what I do," Miozza say. "I am able to be myself. With how many jobs there can you say that  you're paid to give your opinions and your recommendation? Have a conversation with me so you understand and learn about my city and enjoy from a perspective of a local. That's what I'm here for."
BOOK YOUR STAY AT WYNN LAS VEGAS TODAY