By Andrea Bennett for Wynn Magazine

This story was originally published in 2020.
A 105-foot-high, pine-topped manmade mountain behind a 45-foot-high waterfall that doubles as a screen; a woman's oversized head emerging from the lake below; a singing frog; glowing orbs. Behind the scenes is award-winning production designer Michael Curry, currently reimagining this favorite Wynn Las Vegas spectacle. (don't worry: the frog stays.)
Curry has a fanciful theory about what powers his creativity.
"I have this idea that late at night when everybody turns theirs off, it's all still there for the taking. So at midnight, I get a special feeling that all the other minds are turned off and their juices are mine," he says, laughing gently at himself.
"It's a bizarre, selfish, completely whimsical thought—that there's more psychic energy available to me because someone is not using theirs."
Whimsical, yes, but as you enter his workshop, you'll wonder if there might be something to this zero-sum idea. Because while the rest of us are sleeping, Curry conjures up two-story-high giraffes and leaping gazelles (for which he earned a Tony Award for The Lion King in 1998); the 26-foot-long metallic lion on which Katy Perry roared into the Super Bowl XLIX half-time show in 2015; the 15-foot-high Trojan horse that bore a golden toga-clad Cher onto the stage of her "Dressed to Kill" tour; the spectacularly massive Sandworm currently slithering in Beetlejuice on Broadway; and any number of projects for clients like Universal Studios and Disney, or friends like Elton John.
"And in the morning," he says, "I get a coffee, I put my bathrobe on, and then I go see what I did."
Curry is lanky and animated, his big, easy, elegant gestures betraying his decades of work studying movement for character design and puppetry. He is standing outside his office that overlooks the 50,000-square-foot floor of Michael Curry Design, Inc., in Scappoose, Oregon. To reach it, you drive 22 miles northwest from Portland through cow pastures and wooded areas, along the Willamette River to a perfectly anonymous complex of warehouses. Inside: a sea of animatronic armatures, flailing tentacles, the front and hindquarters of an animal you will recognize from a wildly popular Disney movie- turned-Broadway play, now on its North American tour.
At the moment, however, Curry is fully engaged in reimagining the evening show at Lake of Dreams at Wynn Las Vegas.
"There she is," Curry says, pointing toward a toucan-billed structure that will become the lead singer of a trio of "Fabulous Ladybirds," amalgamations of the wildest and most colorful features from tropical birds, set to debut this spring atop the 45-foot-high waterfall on the Lake of Dreams. We watch as a computer programmer bends and tilts Ladybird's head on a screen, as she flirtatiously struts, mouthing the lyrics to Lady Gaga's "Born This Way."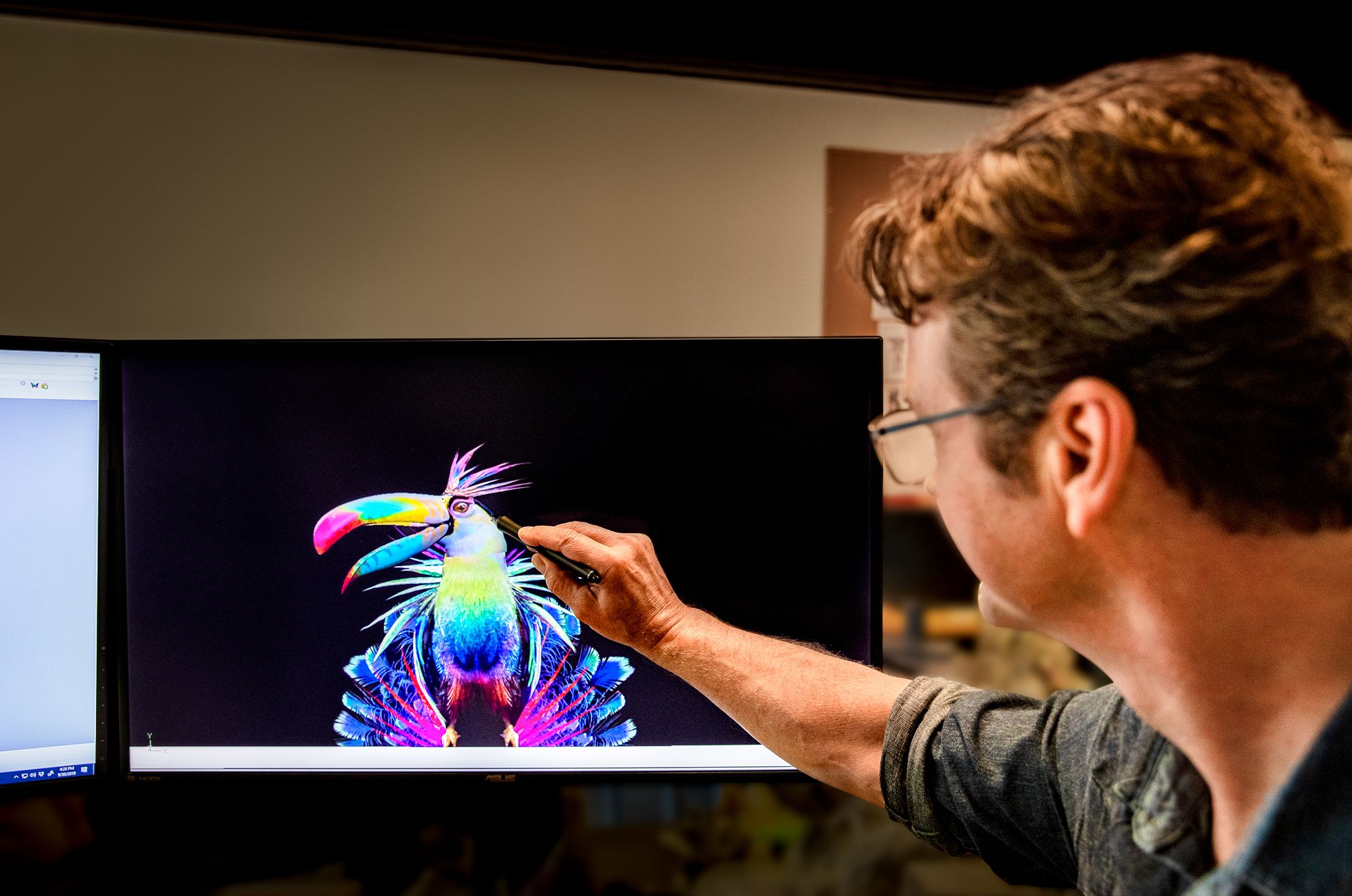 VISIT THE LAKE OF DREAMS TODAY

He points to detailed drawings of a female astronaut, one of the lake's new characters, whose journey begins as a digital projection on the water screen—to the sounds of David Bowie's "Space Oddity," rerecorded by L.A.'s Rock Mafia—then floats out in her capsule and exits, leaving it to drift out to space as she hovers weightlessly within 10 feet of diners on the terraces at SW Steakhouse and Lakeside.
From the launch of the Lake of Dreams in 2005, Curry envisioned the mini-performances through the lens of a couple on a date.

"They're having a nice time, and you want to have an impact, you want to pull attention, but you don't want to pull it from the focus—the date."
To that end, every song is shorter than three minutes (around 1.5 in SW Steakhouse in Wynn Palace), and the concepts are playful.
"We're creating uplifting, romantic things. I'm not going to show too much drama," he says. And though Wynn has in its arsenal a playlist of songs that's 20 years long, "They're storytelling songs, always."
The Lake of Dreams was always meant to be a format that would involve so many technical processes that an artist could reimagine shows.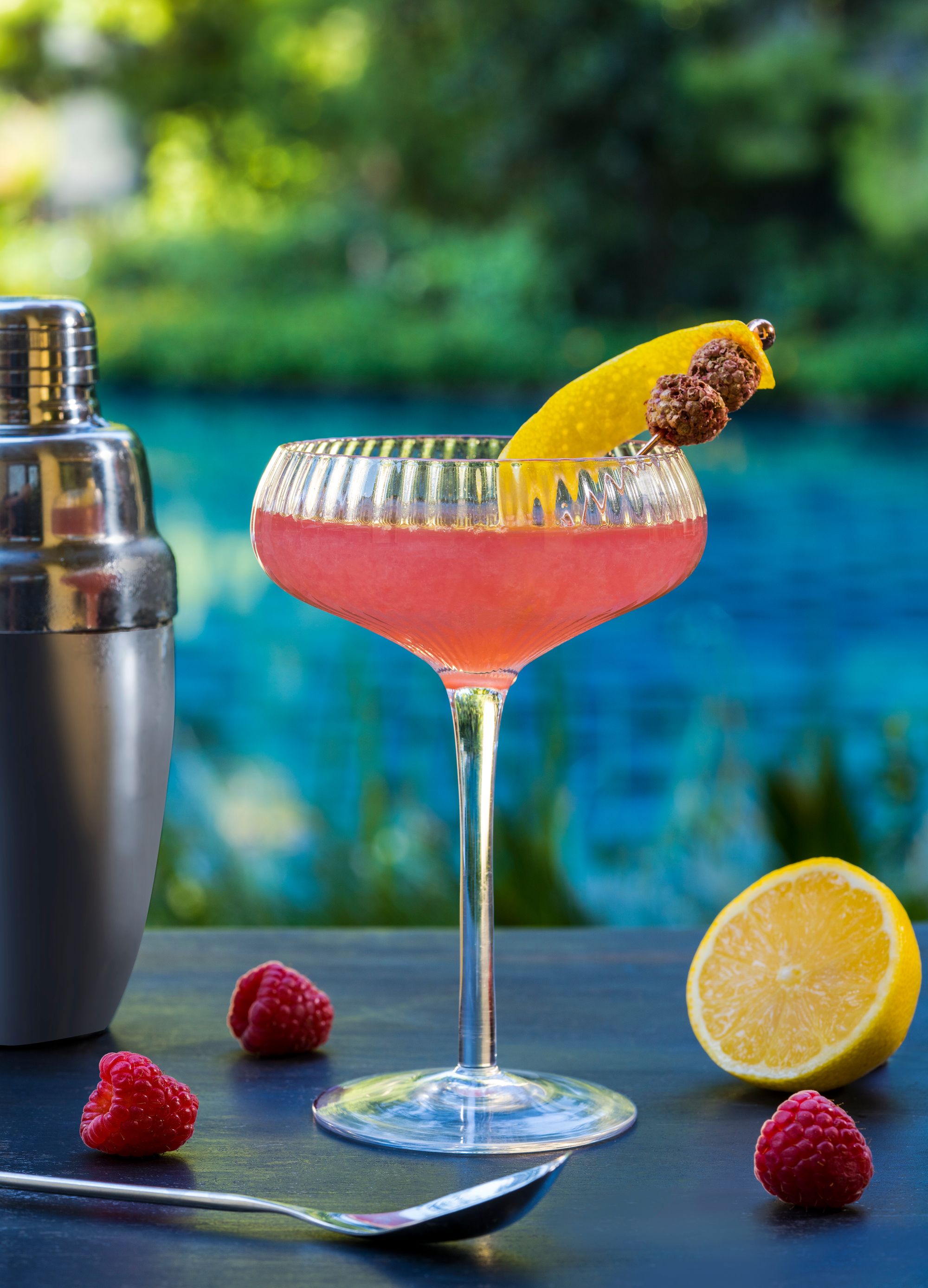 "We all said that we would build a toolbox that would enable other designers to come in, but I love it so much that I've been too stingy to come up with one," he says, laughing.

Producer, director, and choreographer Kenny Ortega, who directed such films as the High School Musical trilogy and counts Dirty Dancing and Ferris Bueller's Day Off among his choreography credits, is doing the film work for the Lake of Dreams.
"Our dance sequences and film work are much more involved now," Curry says. Both the astronaut and another new character, for instance, are powered by a computer-controlled, stabilized, cable-suspended system — like the SpiderCam used by the NFL. "We're building one of those on the Lake of Dreams, and it enabled us to create a flying starburst that actually has a voice. She flies into the audience and says, 'How are you? You look nice tonight,' and flies away. Kenny's calling her the Lady of the Lake, and she's an emcee of sorts."
The idea is to create vignettes on the lake that resemble your evening: small chatter, big moments, personal interaction.
The Lady of the Lake is not the only entr'acte. Those who love the current tête-à-tête between a pair of glowing, sighing orbs might appreciate their transformation, via interior projection, into a pair of eyeballs following the movements of a shark fin—accompanied, hilariously, by "Can't Take My Eyes Off You," by Franki Valli and the Four Seasons. "We're adding a lot of humor that we didn't have before," Curry says, "and intimate, small stuff—things that come right to the audience." The spheres later sing Sonny and Cher's "I Got You, Babe" as emojis.
Of course, the favorites stay. Wynnie returns, now with a fuller range of animation— wearing a fedora, holding a glass of whiskey, and singing a few new songs.
"We didn't wait this long to change shows because we wanted to — we wanted more variety. The new kit we're putting together is much more versatile and our guests will see more changes, more frequently," he says. These ladies [pointing toward Ladybird] are going to be as popular as the frog. For right now they're going to be singing songs with female voices, but who knows? Sam Smith, he's got a beautiful voice."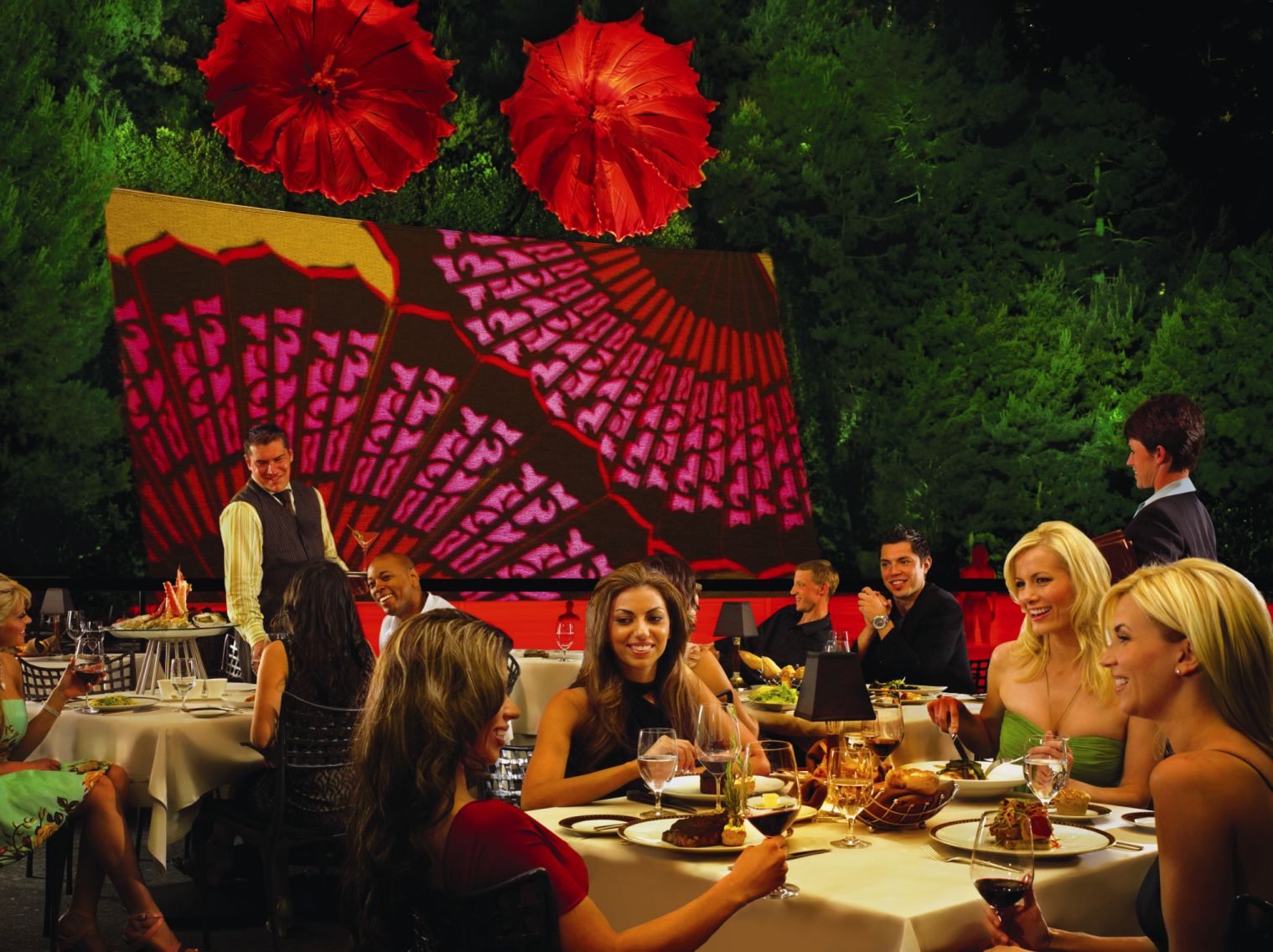 ---

Michael Curry didn't plot his path to Las Vegas.
"It was the 1980s and I was a young Broadway designer working with John Napier, who at the time was the production designer of Les Misérables and Cats — he was the hottest thing. And Siegfried and Roy hired Napier to create new effects for their show at the Mirage. It was a transformation for many of us, because at the time we were designing costumes for Cats and making different things for Broadway shows, but this show was a big vision. It was really the first big spectacle done in the modern way, before shows like Cirque du Soleil, and this had the same dynamics," Curry says.
A multidisciplinary problem-solver (Curry self-effacingly characterizes his early qualities as "nosy and meddling"), he found himself tinkering with special effects and troubleshooting for the robotics team—which led to more and more consulting, and the opportunity to work on the opening of Wynn Las Vegas.
"In those days, I was working with big visionary directors like Julie Taymor and Robert Lepage.
This was the '80s and audiences were starting to get their first taste of big effects and wanted to see them on stage. I happened to be an artist who was technically oriented, and so in the early '90s, I was many times creating effects that had never been done on stage before."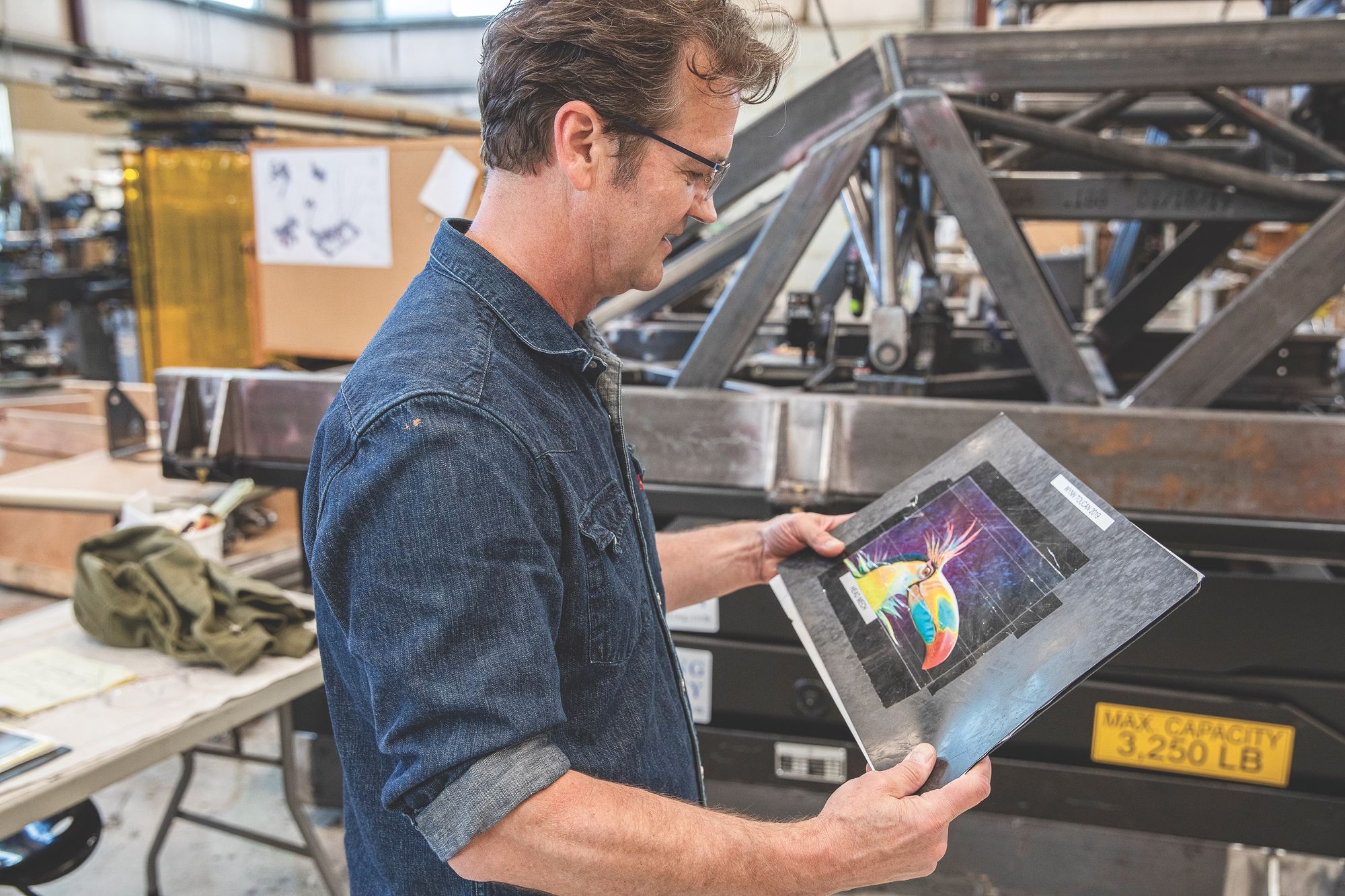 The era of the big Vegas spectacle had begun, too, and Curry found that his aesthetic was very much in line with the Wynn Resorts way of thinking.
"They realized that I had an edge in terms of aesthetics, but at the same time, I was a risk-taker and liked to do things that no one had ever seen before. Instilled within those new things was a sense of beauty, tradition — the very things that Roger Thomas and DeRuyter Butler value very highly."
Unlike some of the avant-garde directors with whom Curry has worked, he both bestows credit liberally and also appreciates the sense of teamwork that has always gone into entertainment and design at Wynn.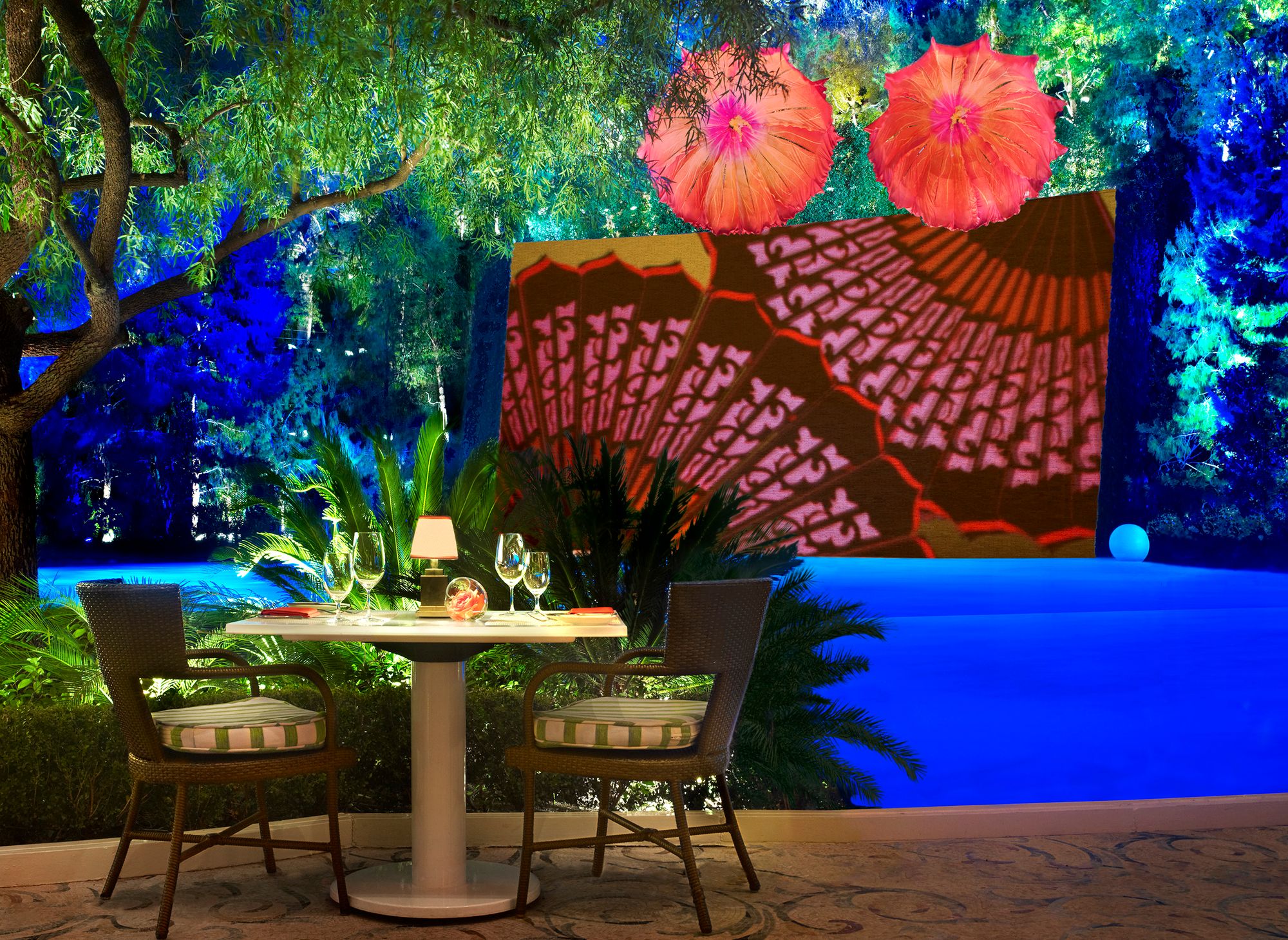 "There has always been a committee—and we've had our own agenda," Curry says, noting that now is a particularly exciting time, with CEO Matt Maddox at the helm, for creative work within Wynn Resorts. "It's like the family grew up and now gets to stand on their own. A lot of really wonderful resources have been unmasked that were just beneath the surface. A lot of people feel pride in that now."
"They realized that I had an edge in terms of aesthetics, but at the same time, I was a risk-taker and liked to do things that no one had ever seen before." – Designer Michael Curry
With the new Lake of Dreams vignettes opening this spring, new shows in SW steakhouse in Wynn Palace next year, and Crystal Pavilion, the theater and museum expansion adjacent to Wynn Palace scheduled to open in 2022, Curry's plate is quite full with Wynn Resorts work—all of it being worked on simultaneously. He pulls up computer renderings of a 160-foot-high gong spire made of 60,000 pounds of bronze that rises up into a dome conceived for Crystal Pavilion, around which a golden-costumed aerialist driven by a computer travels a circular track and engages in a kind of symphonic gong-bathing for passersby.
"The whole dome is a projection screen, and the room changes to whatever we want," he says. "We're playing around with this astrological aurora, and a beautiful black giant tortoise that will just revolve slowly for five or 10 minutes ... and a miniature boat, perfectly realized, doing a slow circuit around this beautiful landscape while the whole thing turns. This is how we kick around ideas."
As for the rest of us, we should turn in early. Come midnight, Michael Curry is counting on the extra creative juice.