Wynn Las Vegas' inaugural Las Vegas Concours d'Elegance™ took place Friday, Oct. 28 through Sunday, Oct. 30 at Wynn Golf Club. Throughout the three-day event, attendees and enthusiasts marveled over more than 200 examples of automotive genius—modern hypercars and antique classics from luxury manufacturers such as Bugatti, Czinger, Koenigsegg, Lamborghini, McLaren, Bentley and Rolls-Royce. From the time these automotive masterpieces rolled on to the greens Friday afternoon through the opening gala held that night, the air of anticipation continued to build and was at an all time high when the competition and exhibition opened at 10 a.m. on that picture-perfect Saturday.
Master of Ceremonies and Grand Marshal Jay Leno arrived in his Shelby Bronco GT500, the only one of its kind, kicking off the event with some jokes and car talk. On the course at Las Vegas Concours d'Elegance, we spoke to avid collectors and winners, prestigious brands and even checked out a real Formula 1 car, up close and personal.
The Exhibitors
Las Vegas local Todd Marshall brought his 1965 Rolls-Royce Silver Cloud III Continental convertible. It is one of 14 left-hand-drive cars made in this body style in 1965.
"It's a unique car. It's been in my family since 1980. The car was restored here at the Rolls dealer in 1983 and 84. And we've used it sparingly and lovingly around town since," he says. "I got the car bug from my dad as a kid and actually my dad was the first Rolls Royce dealer in Las Vegas in 1974 to '79. I like these cars from the 60s. I have a 1962 Cloud II as well."
In addition to being a Rolls Royce lover, Marshall shares that his first was a 1974 Silver Shadow—but he also has a Bentley Continental R, a Jaguar 1967 Series One Roadster, a Morgan '63 and a '68 Corvette.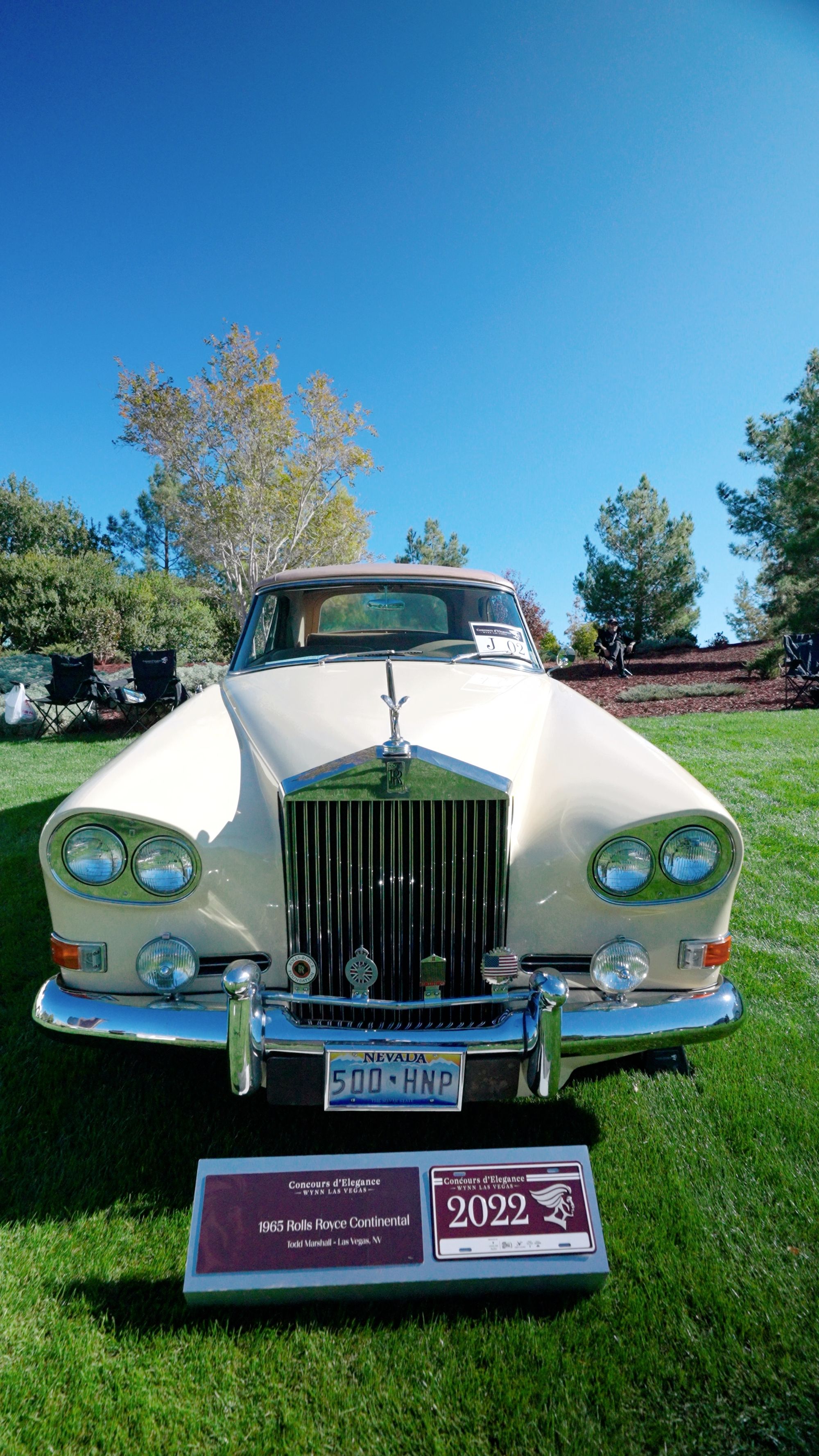 "I like the way the cars are made. They're put together beautifully. They're indestructible, very solid. And there's nothing like sitting behind the driver's seat, behind that flying lady just driving down the road," he says.
Marv Smith proudly showed off his 1967 427 Cobra.
"This particular car has all numbers matching, which is impossible to find in a car like this that was built back in 1967 with this much horsepower. People crashed them all over the place," Smith says. "And to find one that is truly, genuinely original, every number on this car matches, which makes it a very unique and sort of the holy Grail for a Cobra."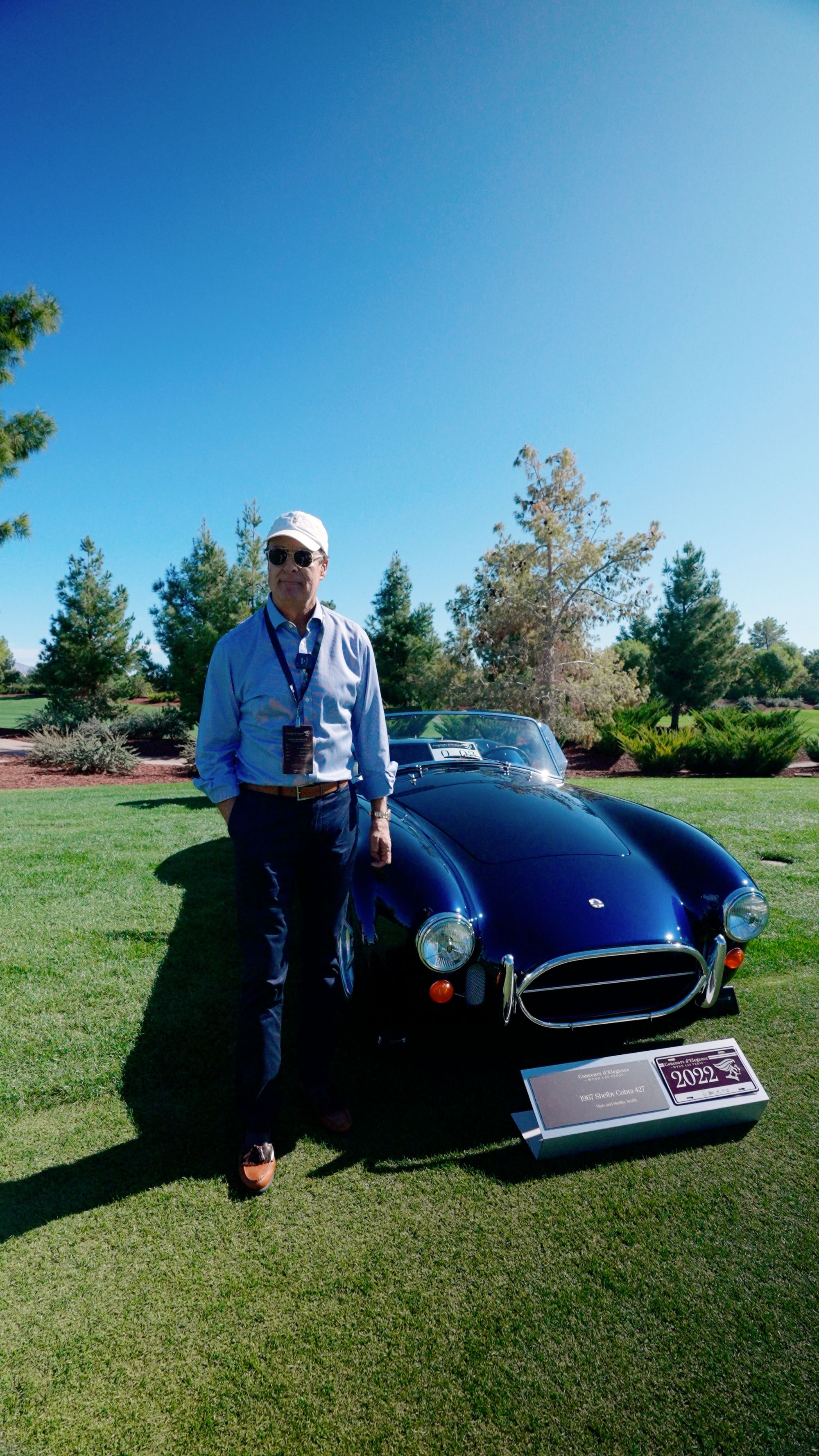 He first owned one back in the '80s, sold it, and then years later decided he wanted it back—with only five owners this Viking blue Cobra is a rarity.
"It's a blue that you don't see much on on these. Most of them are Guardsman blue which is a lighter, more silvery color. But this color is like blue velvet," Smith says.
Its virtues are many—fast, loud and fun.
"This is a car that a car person would love. It's noisy. It has that ride that makes you feel connected to the road and it's got power. You really have to be careful. It's more like a brick compared to some of these new Ferraris and such but it has gone 200 miles an hour in races back in the day, which is extraordinary. It's a car that doesn't pretend to be anything but what it is. It's not a phony car. It's powerful. You can have a lot of fun. And when you get home, you take a shower."
Steve from Los Angeles' Specialty Car Collection brought a 2013 Caterham F1 car—which was raced numerous times before the team folded.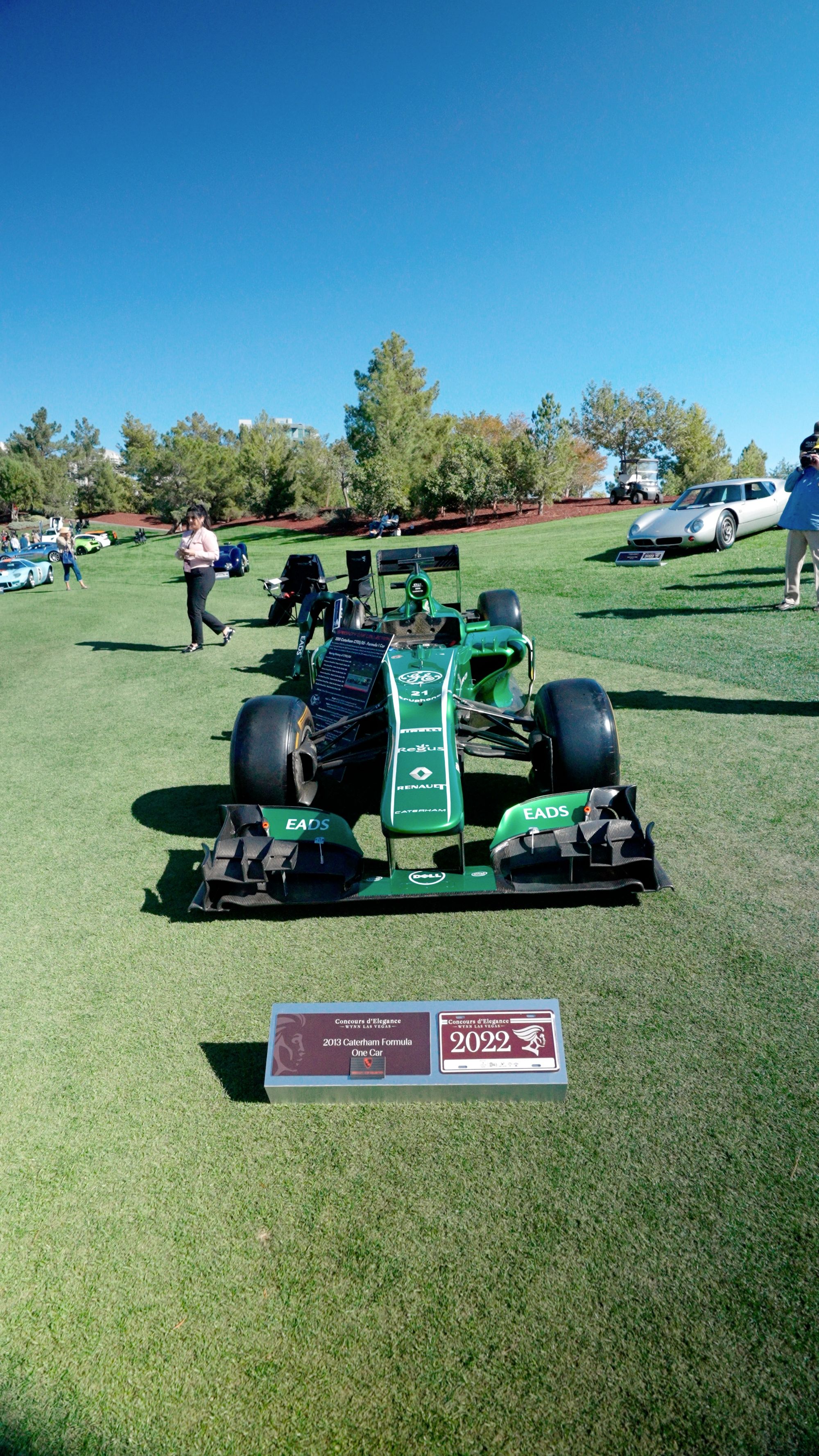 "Next year, will be the first F1 event for Las Vegas so I figured I would bring something to get the excitement going," he says. "What better way to do it than with a real F1 car."
The car cost about $12 million new. There were only two built. Specialty Car collection sells exotic vehicles with prices ranging from $100,000 up to $5 million.
The Winners
Inclusive of 15 judged classes and 230 automobiles representing the past, present and future, two exemplary vehicles captured the most prestigious honor, Best of Show. Categories were Best Pre-War and Best Post-War; and one winner was selected for each category.
Best of Show Pre-War
1933 Duesenberg "20 Grand," presented by The Nethercutt Collection
Arguably the most famous of all Duesenbergs, this 1933 model SJ Arlington Torpedo Sedan was the factory show car for the "Century of Progress" 1933-1934 Chicago World's Fair. The car was the hit of the fair due to its color, styling and asking price of $20,000 during the height of the Great Depression, when most cars typically cost $600-$800. It became knowns as the "Twenty Grand" car.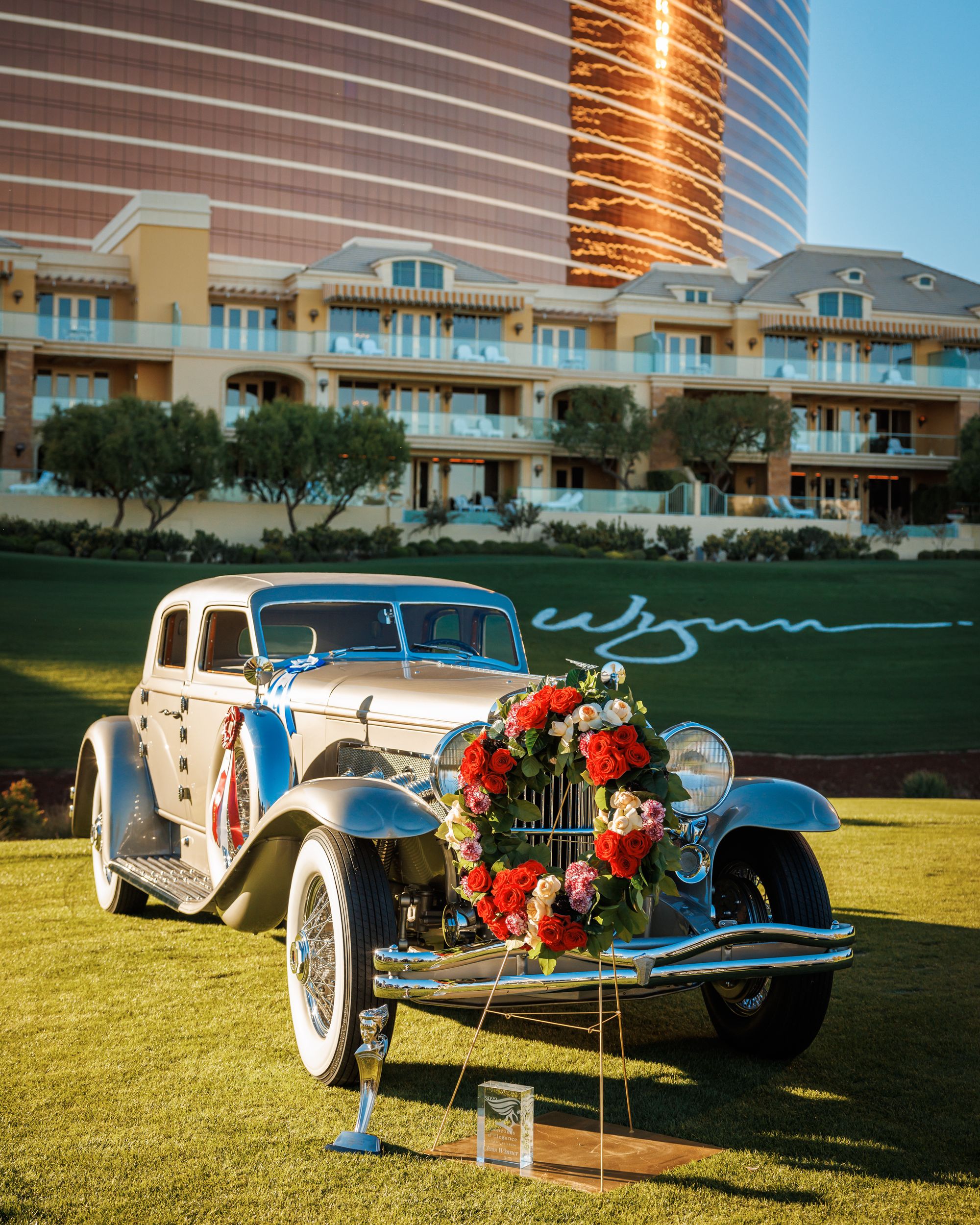 "The one-of-a-kind 1933 Duesenberg SJ Arlington Torpedo Sedan "20 Grand" was awarded Best of Show amongst an incredible lineup of vehicles," says Helen Nethercutt, chairman of The Nethercutt Collection. "She remains a fan favorite amongst all automotive and Concours enthusiasts and owns the competition status of 'undefeated'. We could not have asked for a better show—we look forward to next year."
Best of Show Post-War
1951 Delahaye 235, presented by Peter and Merle Mullin of the Mullin Museum
The Delahaye 235 was an exclusive sports car that combined both the luxury of pre-war handcraft with post-war technological innovation. Produced between 1951 and 1954 by French manufacturer Delahaye, this car was the fifth of a total of only 84 produced.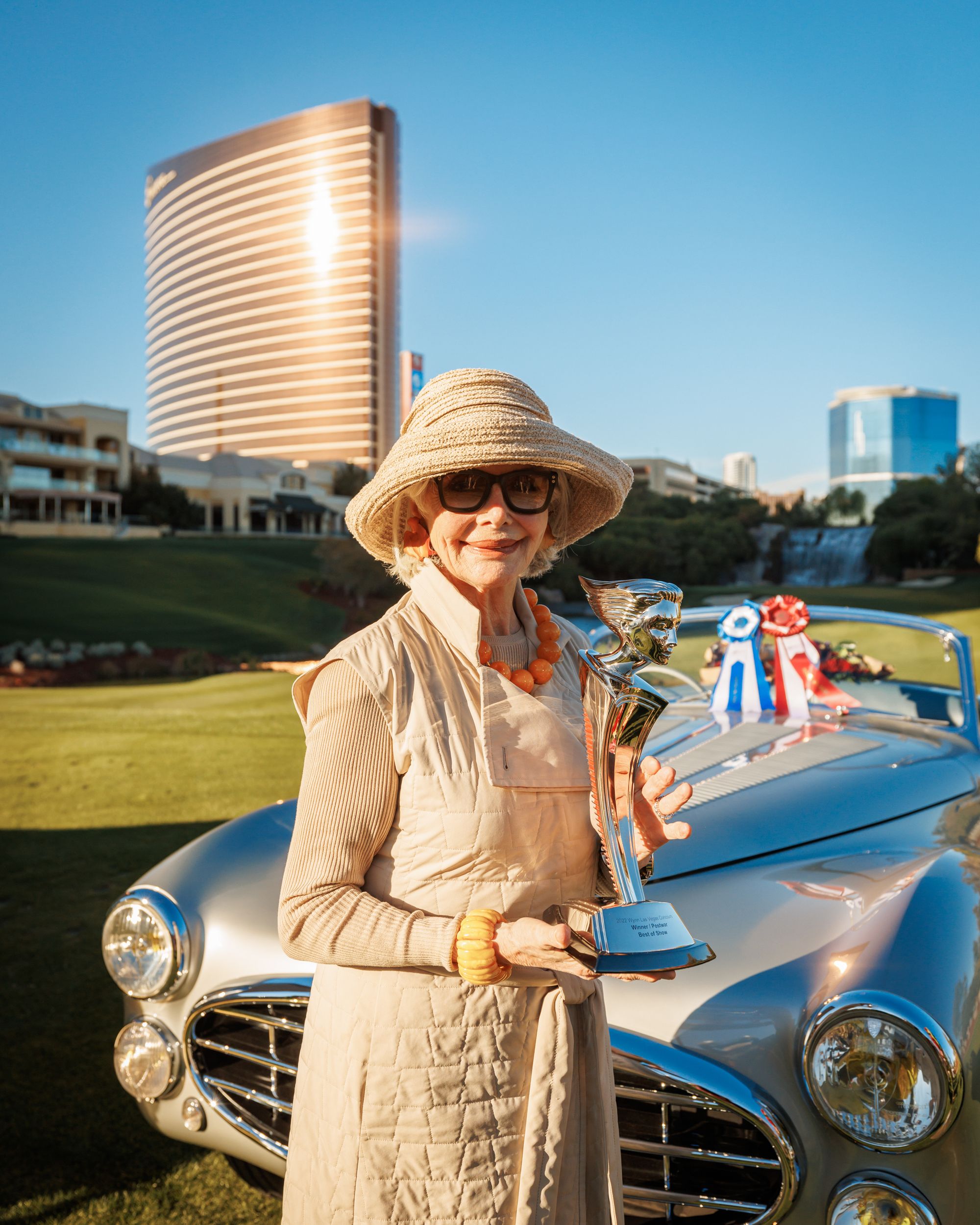 "We are honored to receive the Best of Show Award from the Las Vegas Concours d'Elegance," says Mullin Automotive Museum Founder Peter Mullin. "Las Vegas has quickly become a standout event for automotive enthusiasts, and we're thrilled to be recognized by some of the world's most passionate collectors."